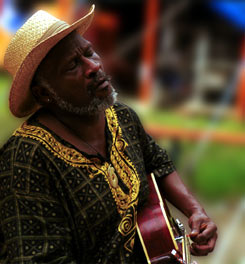 Washington (District of Columbia), USA – As a group of elder but hardly retiring American musicians return from touring France — and their hero's reception on major stages — they prepare to travel to Washington, DC, for The Congressional Blues festival, honoring musicians who are national treasures. Headlined by Taj Mahal, the only three-year-old but growing festival is set for one night only: Wednesday, June 21, 6:30-11:30 at Mellon Auditorium, announced Tim Duffy, president of Music Maker Relief Foundation.
"In its third year, and sponsored by Volkswagen, the festival provides a national stage for this great art form, that is truly an American creation and revered internationally: roots music. Our blues artists are our national treasures," said Ryan Costello, festival founder and director.
Tickets will be free and made available by online lottery bluesonthehill.org/cbf_tickets.html.
Taj Mahal, the Music Maker Relief Foundation's most visible, renowned and long time spokesperson will headline the event. He's a tireless promoter of roots music and a citizen of the world and unofficial godfather to the Music Maker Relief Foundation. The Grammy Award winning musician (Senor Blues, Kulanjan, etc.) will introduce and jam with Music Maker artists Beverly Guitar Watkins (of Atlanta), Mudcat (Savannah, Georgia), Cool John Ferguson (St. Helena, SC, and Durham, NC) and the up-and-coming discovery The Carolina Chocolate Drops (from Durham, NC).
Also taking the stage are Congressmen and Senators, who have played for Willie Nelson's Farm Aid and troops in Iraq: The Second Amendments. They include Collin Peterson (D-MN) – Guitar and Vocals; Jon Porter (R-NV) – Keyboards; Kenny Hulshof (R-MO) – Drums; Dave Weldon (R-FL) – Bass; Thaddeus McCoter (R-MI) -Lead Guitar.
Proceeds go to Music Maker Relief Foundation, a nonprofit organization dedicated to helping the true pioneers and forgotten heroes of Southern musical traditions gain recognition and meet their day to day needs. Today, many such musicians are living in extreme poverty and need food, shelter, medical care, and other assistance.
Music Maker's aid and service programs improve the quality of recipients' lives. "Our work affirms to these artists that we value the gifts of music and inspiration they have delivered to the world. The mission is to give back to the roots of American music." Criteria for recipients is they be rooted in a Southern musical tradition, be 55 years or older and have an annual income less than $18,000. Music Maker Relief Foundation, Inc. is a tax exempt, public charity under IRS code 501(c)3. Programs include Musician Sustenance — grants to meet basic life needs and emergency relief. Musical Development — grants and services for recipient artist professional development and career advancement. Cultural Access — supports the preservation and proliferation of American musical traditions. New Orleans Musician's Fund — assistance to musicians affected by Hurricane Katrina.
* The night before the festival June 20th, is a free screening of the fall-release DVD documentary on the efforts of Music Maker Relief Foundation and its artists: Drink House to Church House: Songs and Stories from the Roots of America 8:30 p.m. at the Avalon Theater, 5612 Connecticut Ave. NW, Washington, D.C. Admission is free for this one time screening; reserve seats by calling 919.643.2456.
For additional information:
Author:
World Music Central News Department
World music news from the editors at World Music Central