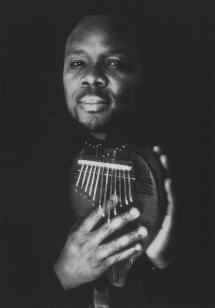 New York (New York), USA – Ugandan musician Samite will be presenting his latest CD, Embalasasa, on Thursday, May 18 at 7:30pm. the concert will be held at Makor, 35 West 67th Street, New York, NY. 212-601-1000. The tickets are $15/$18.
Embalasasa, Samite's new CD on Triloka Records was released in March 2006. "On the title song, I call my grandpa to come with his walking cane and kill the modern Embalasasa, AIDS, a deadly disease transmitted through the most beautiful, vibrant and natural act," explains Samite. The album's songs draw upon Ugandan folklore, geography, and struggle to express words of allegory, healing, and hope. In addition to AIDS, his curative songs address war, intolerance, the death of a loved one, and survival. Samite is a survivor.
Samite was born and raised in Uganda, where his grandfather taught him to play the traditional flute. A teacher in Kampala put a western flute in Samite's hands putting him on the path to become one of the most highly acclaimed flutists in East Africa before moving on to the kalimba (thumb piano). In 1982 Samite fled to Kenya as a political refugee after his brother was killed for his political views. He spent a period in a Kenyan refugee camp and traveling around Africa before making his way to Ithaca, New York, where he currently resides.
Delivering his mellifluous vocals in his mother tongue, Luganda, Samite mesmerized audiences playing on the kalimba, marimba, litungu (seven-stringed Kenyan instrument) and various flutes. The kalimba functions as a soothing heartbeat that transcends language and cuts straight to the core. But Samite has picked up many other elements along the path. He music has ranged from the songs of the musicians entertaining the King in his Mengo palace near Kampala—where Samite would stop every afternoon on his way home from school to eavesdrop—to traditional Ugandan music, as well as Motown, Barry White, and the Beatles.
Samite has had much success in radio throughout the country reaching #2 in the CMJ Music World Chart within the first month of his 2003 release, Tunula Eno.
Samite has also appeared live on the nationally syndicated radio program Echoes, and he recorded a live performance for the Ngoma Channel on XM Satellite Radio in Washington, DC.
Samite's live performance on the nationally syndicated show E-Town has broadcast on over 120 stations as will his broadcast for the nationally syndicated radio show World Vision Radio.
Author:
World Music Central News Department
World music news from the editors at World Music Central