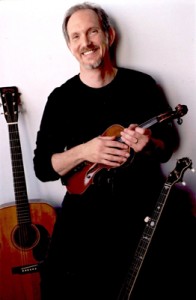 I really wanted to be in New Orleans this past weekend. The Jazz & Heritage Festival was calling to me like troubadour calling for his chorus. But I've got fires at home to tend, so I stayed in Minnesota. To mollify my plight, I bought advance tickets to a couple of concerts at the Cedar Cultural Center in Minneapolis to occupy my time and distract me from where I'd rather be. As he always has, Bruce Molsky came through for me.
The last Friday evening in April saw Dr. John, BeauSoleil, and Ani DiFranco playing down in the Crescent City. Up here in Flour City, Molsky heaped a helping of old-time music on our plates with plenty of side dishes. I left the venue that night completely satisfied and truly no longer yearning for the Big Easy.
Bruce Molsky plays old-time music, staying true to the rural Appalachian Mountain folks who changed their Scottish and Irish tunes into an American mixture, granddaddy-ing both Country Music and Bluegrass. He's thorough, knowing the details of every song he plays, despite his words to the contrary. "I'm kinda lyrically impaired," Molsky tells us during his show, "I can't remember the name of this piece (thinking it might be The Johnson City Rag)." But he does recount the tune's history, providing us with dates and locations from its originator to the names of those who've played variations. Molsky doesn't cut corners.
He believes in honesty, singing the songs the way they were played hundreds of years ago. And he also spends time on stage tuning his fiddle or banjo. "It's not that I carry around crummy instruments that won't stay in tune. It's that I'm actually changing the tuning to these old-fashioned tunings," Molsky says.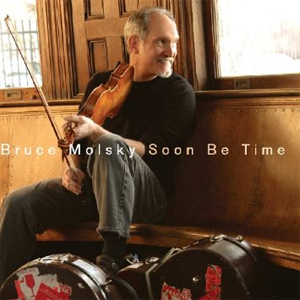 His eight o'clock show starts up showcasing some of the numbers on his new album, Soon Be Time. His voice singing Lazy John turns his four-stringed violin into a five-string instrument, the timbre of the two boxes, voice and fiddle, so closely match, I can hardly tell them apart.
Many of his songs are heel kicking, frolicsome pieces, but as much as I adore dancing, I never want to dance while Molsky plays. There's something about his precise fingering and penetrating voice that nails me right to my seat. I don't dare get up. Move, yes, as Molsky picks his guitar playing Fair Thee Well Blues, a mean an sassy number by Mississippi bluesman, Joe Callicott, I definitely tap my toes, bang my heel, sway my shoulders, but I am paralyzed to get out of my chair, so mesmerizing do I find Molsky's performance.
When we hear Bury Me Not on the Lone Prairie by Fields Ward, the glue that holds me together comes undone. It's a cowboy song, says Molsky, but I can't imagine a cowboy riding the dusty trails having such a rich, dead-on, in-tune voice as Molsky's. This song wraps around me, rocking as the winds on the prairie blow, warm and embracing, yet also heartbreaking.
His first set ends with his old-time version of Cotton Eyed Joe. As of late, I'd been listening to BooZoo Chavis' Zydeco-answer to that tune, Uncle Bud, which I liked even more than Cotton Eyed Joe, until I heard Molsky perform. When Molsky started rapping his fiddle in the style of Tommy Jarrell, under my breath I cheered, "Go Brucie, you rappin' dude!"
Molsky pulls in the flavors of many, many countries. I've heard him play with Swedish violist, Ellika Frisell, and their music was so lovely, I just didn't want it to end. It's like that tonight when Molsky fiddles a series of Scandinavian tunes. Like being served a bottomless cup of java, the songs are not flashy, but absolutely essential with a quality of endlessness.
He'd like you to think he's even-tempered, unflappable. But underneath his steady exterior resides a passionate, intense man. He reveals his hand when he talks about politics. "Foreign musicians visiting the States are at an all-time low because we're so damn unfriendly to them," Molsky says after playing the songs from several musicians such as Hoven Droven and Väsen.
Molsky plays favorite after favorite in the second set. As comforting as watching rain lightly fall on a thirsty earth, is his music to my ears. The audience is small enough at almost 100 people to be intimate and close up. Molsky shines in this setting with his warm demeanor, ready smile, and crinkly eyes. I leave that evening feeling very pampered.