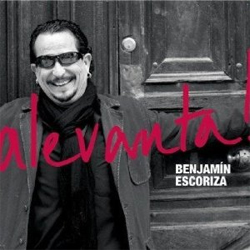 Madrid, Spain – The founder and vocalist of Radio Tarifa, Benjamín Escoriza, has released his first solo recording. Alevanta is a powerful mix of Arabic music, Flamenco, Arab Andalusian and Sephardic influences, Andalusian folk, Medieval music and rock.
Escoriza will present the album live on June 9 at Sidecar in Barcelona and June 15 at Galileo Galilei in Madrid.
Benjamín Escoriza, was born in Granada and became a Madrid resident nearly 20 years ago. In Madrid he met Vicente Molino and Faín Sánchez Dueñas and the result of their musical chemistry was Radio Tarifa, founded in the 90s. In 1992 Rumba Argelina was released. The album, produced by indie label Música Sin Fin, is regarded as a masterpiece of Spanish world music. Other recordings followed, Temporal, Cruzando el Rio and Fiebre, recorded live in Toronto (Canada).
Along with his work for Radio Tarifa, Benjamín Escoriza worked on a solo album. He enlisted Jaime Muela, Vicente Molino, Fernando Mejías and the producer of Rumba Argelina, Juan Alberto Arteche. Together they created Alevanta.
Author:
World Music Central News Department
World music news from the editors at World Music Central