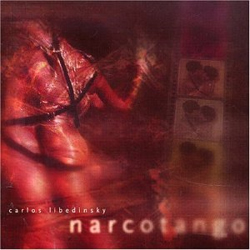 First up is Carlos Libedinsky's Narcotango. One can only assume the narco part of the title is in some way linked to the Mexican narco-corridos, those happy, blood-thirsty anthems to the border drug lords; there's little narco, if any, in this CD. The title's just a grisly attempt at a slick coolness.
Speaking of grisly, the selection of photographs of the Saran-wrapped/black-belt bondaged duo on the cover and throughout the booklet was … well…unfortunate. They look cheap and hurried, possessing none of the artful nature of bondage professionals.
Intended to be a part of the new wave of tango fusion, Narcotango relies heavily on techno loops and samples woven through the text of the music. Unfortunately, the industrial sound comes across as flat and chunky. Several of the pieces sound as if they've been squeezed out by a band of zombies trapped in the bottom of an elevator shaft. That's not to say that Narcotango doesn't have its moments with tracks like "Otra Luna" and "Humo." Too bad, there's just not more of these moments on a 12-track CD.
Tangophobia Vol. 1 fairs better with a dose of funk thrown in Tanghetto's "Humedad" and the keyboards of B.A. Jam's "Incognito." The mood of Tangophobia is more sophisticated, but it's techno-based rather than traditional tango, so hardcore tango fans be warned. B.A. Jam's track "Tango Provocateur" slips back and forth from tango to techno, as does Tanghetto's "Otra Oportunidad." It's best to think of this music as tangoesque – there the premise of the tango, but there's wide-open spaces of heavy techno beats and funk grooves. It's quick and slick – a good car CD.
Next up in the tango/electronic fusion bin is Zona Tango. Unlike Tangophobia, Zona Tango's opening track, "Diskparte," sounds like it could have come straight from a cheesy 1970's spaghetti western or European sex romp. Adding the vocals and the whistle solo didn't help the piece any. Unfortunately, Zona Tango doesn't get any better with tracks like "Experimento Milonga" and "Piazzolectro." There's a cheap cartoonish feel to the recordings, where the electronic elements sound as if they were part of a 'free with purchase' software item. Try as they might to spice it up with some radio background sounds, restaurant recordings, chirpy flute sections and some plucky strings, it annoys.
I'd like to say some nice things about Zona Tango. The best I came come up with are some individual moments of brilliance as in the CD is a 22-second piece of the bandoneón and a couple of saxophone and piano solos. I could be wrong, but this really belongs in the elevator music bin.
Hybrid Tango with Max Masri and Diego S. Velázquez has a decidedly different feel, although it's still part of the new wave of fusion tango.
Meaty with a heavy backbeat and techno edge, Hybrid Tango doesn't loose sight of the goal by overplaying the thrumping beat or industrial garage electronic loops. Hybrid Tango centers each piece on the tango itself; the variety of elements change but it's still a tango. The opening track, "Más de lo Mismo," features some sharp bandoneón playing against the techno beat. Because the focus remains on the tango, there's not that cluttered feeling of most techno tango CDs. Throughout the CD, respites exist, where the furious electronica is stripped away, revealing some lovely solo moments of guitar, piano or badoneón. Tracks like "Bario Sur" and "Lo Que Nunca Fue" don't lose their passion amid the added elements and isn't that the whole point of the tango? Keep in mind this stuff is essentially techno tango, so if you're expecting Astor Piazzolla buy something else.
Ultratango's Astornautas opens with "Libertango" and is another of those techno tango pieces that evokes the image of a cheap James Bond knockoff spy type with too much makeup, making his way through a crowded train traveling through the Swiss Alps. The twangy eletronica and lumpy squeezebox sound of the bandoneón of track, "CiteTango," written by Piazzolla, made me cringe. "Invierno Porteño" with the vocals of Raul Lavie would certainly earn my vote for NPR's Annoying Music Show for its grand show of machismo. The electronica is tinny and sounds as if washed through the bottom of a trash can. "Asi Sea" is one of only stand out pieces on the CD with some interesting rhythm if you can get past the spoken word sections, but my gut tells me to pass.
Tango Fusion Club V.1 fairs better with a funky, hip-hop feel to opening track "De Trampa." Unfortunately, Tango Fusion Club soon lapses into the same old pop/techno mix that soon loses its charm. Tango Fusion Club, like many of the other techno tango CDs, have a limited appeal other than to serve as background for jogging or a short trip on the treadmill. "Ultimatum" isn't a bad piece, but it doesn't go anywhere; there's little to set it apart in either musicianship or artistic expression than any other techno piece. "Número 23," on the other hand, possesses a darker feel and more attached to the passion of the tango and is a better track for it.
I won't say that tango doesn't lend itself to techno well, because I believe it might in some cases. The sad fact is that, with little exception, most of the techno tango CDs I've mentioned here are stuck in between wanting to turn the tango into a pop piece or a muzzy kind of romantic ballad. The tango is neither. Most of the tracks loose their passion and fall into the same two or three techno backbeats. There's no innovation, the very thing that vilified Astor Piazzolla and made him great at the same time.
Now on to something a little different. The 3-0-3 group's Música con Buenos Aires has a decidedly different feel. Música con Buenos Aires is a smart fusion of jazz and tango with guest appearances by Horacio Ferrer and Walter Ríos. 3-0-3 features of Alan Ballan, Martín Benedetti, Gerardo Solnié, Julio Morales, Fabián Zylberman and Hernán Valencia. Infusing jazz and funk elements into the tango, the compositions are intricate and full-bodied. While the jazz elements tend to rough over the tango elements, tracks like "Pithyrosporum Ovale" and "Un Jubilando Más" are breezy fusions of both. "Tango Vasco II" stands out as one of the gems on the CD with its funk flavor. There's also the fabulous play on "Pequeña Obra para dos Tangoides" between Alan Ballan on bass and Hernán Valencia on the piano. Música con Buenos Aires will certainly impress the jazz fans, but tango fans might be less enthusiastic. The producers of 3-0-3 might want to consider a different translator for the CD's cover, considering the notes were chocked full of errors.
Spain's Chivo Records have released this year Che Camerata's Salduba and it's deliciously rich. Blending the tango with the traditions of the Spanish bulería and solea, Che Camerata has created a masterpiece ripe with the passions of both Spain and Argentina. Each track is a peek into the dark, smoky labyrinthine interior that is the tango's soul, with unexpected turns with Chico Farga's flamenco percussion on "Salduba" and Paco Javier Jimeno's guitar on "Camaron Piazzola." "Laussane 8PM" gently rises with Miguel Pérez's opening piano solo and grows fuller as he's joined by Lorenzo Triviño on violin, Juan Baca on contrabajo and Ariel Hernández's fierce bandoneón playing. "Viento Sur" and "Otoñal" are spectacular pieces. The work is powerful and passionate. The recording is clean and sharp, possessing none of the sterile sound so many recordings have today after being washed through computers too often. After listening to a good deal of fluff, Salduba is one of those CDs you can really sink your teeth into it's that too good to pass up.
Milan Sur's The Last Tango in Buenos Aires, The Best of Casa del Tango hails itself as a "comprehensive overview of modern tango," and it could very well be that with the opening track "Vuelvo al Sur" with its impassioned vocals by Roberto Goyenche, but the CD has a movie soundtrack feel to it. The CD, with its sometimes overblown orchestrations, is your basic hothouse variety of tango, uncomfortably noticeable on tracks like "Libertango" and "El Choclo." This is the stuff of TV specials with overly golded, Aramis-soaked male hosts and scantily clad women. Unfortunately, the track "La Cumparsita" is just short of being relegated to elevator speakers.
The impression The Last Tango in Buenos Aires exudes is of trying just too hard. Besides stripping the passion of music, the vocals have been so digitally enhanced they have lost that rough edge that speaks of the emotion of the singer. I'll give the CD its due by pointing out that tracks like "Milonga Trieste" and "Ciudad Trieste" are pretty. The magic only really happens as Wynton Marsalis takes on "El Sur," but I'm not sure it's enough to prop up a whole CD. Overall, The Last Tango in Buenos Aires is the stuff you pawn off onto tourists. Like so many other CDs out there these days, I would like to point out some particularly outstanding backup musicians on The Last Tango in Buenos Aires, but can't because the producers are so stingy with the liner notes.
ARC Music's Classical Tango Argentino with the late Hugo Díaz is the real stuff. Bandoneón player Díaz, along with Luis Etchebarne on piano and Vinicio Ascone on double bass, tear through Piazzolla's "Melancolico Buenos Aires" and Héctor Stamponie's "Un Momento" with sheer gusto.
Born in 1947, Díaz was acquainted with the origins of the tango and his renditions often possess a bawdy raunchiness that speaks of the tango's past scandalous reputation. Pieces like "Otoño Porteo" reflect that sad loneliness that is one of tango's trademarks, so when the CD slides into "Melancolico Buenos Aires" the piece really sings.
Díaz's trio really captures the light and dark of the tango, that inexpressible element that's purely emotional. "Nostálgico," "Nocturna" and "Alfonsina y El Mar" are flawless pieces; the twists and turns are tight and neat, speaking to the exceptional musicianship of Díaz, Etchebarne and Ascone. Grab your partner because Classical Tango Argentino is definitely danceable.
Carlos Gardel The Passion of Argentina is Milan Music's reissue of tango singer and songwriter Gardel's short career as Argentina's "Zorzal" or the thrush.
Gardel's actual birth and origin are shrouded by several contrasting stories. According to one story Charles Romuald Gardel was born in France, but other documents point to a Uruguayan heritage, others insist that Gardel was the illegitimate son of Uruguayan Colonel Carlos Escalaya that had dealing with France.
Cited as having recorded over 300 tango records, Gardel started out recording Argentinean folk songs, but was best known as one of the most prolific tango songwriters. The recording is dated, but the songs possess the charm of popular singers of the 1920s and 30s. Tracks like "Golondrinas," "Lejana Tierra Mía" and "Cuesta Abajo" are just downright quaint. The recordings have been remastered, but there is that overlaying buzz of older recordings, but that shouldn't discourage listeners to the popular song marking the beginnings of the tango.
Gardel's songbird style and that dapper, smiling figure from the photo on the CD's cover must have marked him as one of tango's original heartthrobs.
Lunático is Gotan Project's follow-up CD to their debut album La Revancha Del Tango. Gotan Project's Phillipe Cohen Solai, Christoph H. Müller and Eduardo Makaroff make techno tango work. Opening track "Amor Porteño" can best be described basement tango; with its chunky beat, twangy background and heart heavy vocals, it's almost the stuff of a Quentin Tarantino film. "Amor Porteño" gives way "Notas" with its slick groove, bandoneón with string overtones and Juan Carlos Cáceres on vocals. "Celos" drops the CD into a more reflective tone with a jazzy, smoke-filled bar scene feel. "Lunático," "Tango Canción," "La Vigüela with Eduardo Makaroff's acoustic guitar work, and "Criminal" with Nini Flores on bandoneón are all outstanding pieces. The group rounds out the CD with "Paris, Texas," the tango's homage to Wim Wenders' 1984 film. While Gotan Project might tend to veer off the beaten path of the tango from time to time, the orchestrations are full-bodied and the techno elements are part and parcel to the piece, not cheap overlays, but essential to the feel of each piece. The clean recording adds to the richness of the jazzy pieces and lends bite and brightness to the techno-based pieces.
Milan Entertainment's Vuelvo Al Sur is a collection of eight Astor Piazzolla performances, taken from a film score and concerts from 1970s to the 80s. The title piece Vuelvo al Sur gets the royal treatment with Roberto Goyeneche's vocals and Piazzolla's brilliance. "Libertango" and "Verano Porteño," taken from a 1984 concert at the Théâtre Roxy de Mar del Plata and the concert at the Palais des Congrès de Lugano respectively, are the artful expressions of tango's masters with Piazzolla's bandonéon, Fernando Suárez Paz on violin, Pablo Ziegler on piano, Oscar López Ruiz on guitar and Héctor Console on bass. "Mumuki," with Horaacio Malvicino on electric guitar, is from the Lausanne concert in 1989 and it ten minutes worth of stunning craftsmanship of the light and dark of Piazzolla's tango compositions that includes priceless performances by Carlos Nizzi on cello and Gerardo Gandini on piano. After listening to endless renditions of Piazzolla's "Luna," the performance at the concert at the Club Italien de Buenos Aires in 1989 puts the others to shame. Vuelvo al Sur is classical tango at its best.
The companion CD to Milan Entertainment's Vuelvo al Sur is Astor Piazzolla, Four Seasons of Buenos Aires. With arrangements by Egberto Gismonit, Jaques Morelenbaum, Henrique Cazes, Zeç a Assumpção, Paulo Sérgio Santos and Beto Cazes, the CD covers ten of Piazzolla's compositions. The classical flair of the interpretations might scare off dancehall tango fans, but the work is extraordinary. The CD's title might mislead some into thinking that the CD features Piazzolla, the fault of the liner notes again, but let me make it clear these are interpretations by other performers. The first four tracks are The Four Seasons of Buenos Aires and Piazzolla's Argentinian soul's answer to Vivaldi's The Four Seasons. Each snares the very light and shadow right out of the air with the work the Rio Cello Trio, Quinteto Villa-Lobos and Eduardo Monteiro on flutes, Paulo Sérgio Santos on clarinet, Philip Doyle on horn, Luis Carlos Justi on oboe, Elione Medeiros on bassoon and Zeç a Assumpção on double bass. The Rio Cello Trio made up of Alceu Reis, Marcio Mallard and Jaques Morelenbaum charms with " Fuga 9." The "Libertango Suite" orchestrated by Henrique Cazes is another stunning piece of work with the Orquesta de Cordas Brasileiras. The final track, "Deus Xangô" has to be my favorite piece on the CD with some remarkable percussion by Beto Cazes, and Santos on wind instruments, Morelenbaum on cello, Assumpção on double bass and Henrique Cazes on guitar and cavaquinho. For the scaredy cats looking for the dance CD this might not be what you're looking for, but you should give it a listen just the same because it's delightful.
As with most opinion-based reviews, there will be the snorts of derision and the sneers of snobbishness from those who know they know better at my take on these CDs, but think on this for a moment, the tango has become the moveable feast for artists all across the world. It is the ever-evolving reflection of human emotion, those inexpressibly sweet moments of love and intimacy, the murderous rage of that love gone bad and the pitiful longing for that love to return. Tango by its very nature available to everyone. The sub-genres of the tango are as varied as the people who listen and love them. When Astor Piazzolla shredded the traditional precepts of the tango, he was vilified by the press, shunned by the traditionalists and actually accosted on the street for his soul's path to the tango. The next evolution for the tango is a living and breathing thing, and there's plenty of tango out there for everyone.
Author:
TJ Nelson
TJ Nelson is a regular CD reviewer and editor at World Music Central. She is also a fiction writer. Check out her latest book, Chasing Athena's Shadow.
Set in Pineboro, North Carolina, Chasing Athena's Shadow follows the adventures of Grace, an adult literacy teacher, as she seeks to solve a long forgotten family mystery. Her charmingly dysfunctional family is of little help in her quest. Along with her best friends, an attractive Mexican teacher and an amiable gay chef, Grace must find the one fading memory that holds the key to why Grace's great-grandmother, Athena, shot her husband on the courthouse steps in 1931.
Traversing the line between the Old South and New South, Grace will have to dig into the past to uncover Athena's true crime.