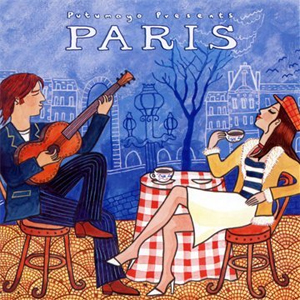 New York (New York), USA – Putumayo's latest release, Paris, focuses on the nouvelle scène (new scene), a group of artists that have revitalized French chanson.
Opening the album is a track from one of the leading artists of the nouvelle scène, Thomas Fersen. On "Au Café de la Paix," Fersen channels the spirit of famed 60s chanson artist Serge Gainsbourg with darkly ironic lyrics over a sweet, bubbly melody. On its surface innocent and simple, the song takes a turn toward the twisted as the delusional author confuses a lover he's never met and a house they've never lived in with a woman from his past. The song ends with Fersen wishing the woman would come visit him in his new home—underneath a bridge.On the acoustic track "Quelqu'un M'a Dit," French supermodel Carla Bruni sings: "I'm told that our lives aren't worth much/ Passing in an instant, like wilting roses/ Yet someone told me that you loved me still/ Could that be possible?"
Heartbreak and passion are recurring themes in this collection, but the group Tryo offers a welcome lighthearted interlude. Tryo writes songs for their fans to "whistle in the shower." On "Serre-Moi," this intention is fulfilled through a unique blend of French chanson and acoustic reggae.
Many of the nouvelle scène artists work similar global fusions into their music. Pascal Parisot plays Brazilian and Latin rhythms, stirred up with chanson and electronica. His lounge-y vocals, humorous lyrics and rhythms on "Je Reste Au Lit" are reminiscent of the very mod 60s sound. The breezy samba-flavored track from Keren Ann displays her global influences and shows off the songwriting style that has been the cornerstone of her successful career. And on "Samba de Mon Cœur Qui Bat" Coralie Clément embraces the same style with a breathy timbre that drifts over samba piano runs and trombone riffs.
A portion of the proceeds from the sale of Paris will be donated to Terre des Hommes in support of their efforts to provide active support to disadvantaged children around the world.
Buy Paris.
Author:
World Music Central News Department
World music news from the editors at World Music Central