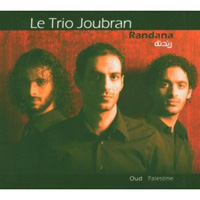 Le Trio Joubran – Randana (Fairplay/Randana FP500, 2006)
The Chicago Classical Oriental Ensemble – The Songs of Sheikh Sayyed Darweesh: Soul of a People (Xauen Music, 2006)
As modernized as some music from the Arabic world has become, there are still many offerings aimed toward those who prefer a sound untouched by contemporary whims. You won't hear much in the way of cutting edge on these two CDs, but given their deep roots in differing aspects of Arabic music, you won't need any.
Adnan, Samir and Wissam Joubran are Palestinian brothers each exceptionally skilled on the 'ud, that increasingly familiar pear-shaped lute found in various forms throughout the Middle East and North Africa. Randana features a triumvirate of uds and nothing else.
Whether playing sparingly or with fingers flying, the brothers are capable of seamless unison as well as threefold excursions that fly high individually but nonetheless fit together perfectly. The range and reach of the 'ud is made crystal clear on this recording, as is how refined, delicate and distinctly aggressive the instrument can be in the right hands. The 'ud has reportedly been around for 4,000 years. Le Trio Joubran help show just how graceful that aging process has been.
Sounding much more like Cairo than their namesake city, the Chicago Classical Oriental Ensemble (CCOE), celebrate the songs of Egypt's Sheikh Sayyed Darweesh, who died in 1923 at age 31. Darweesh did not achieve international fame or great fortune in his short career. Rather, his compositions captured the feel of an era when the classical and Koranic traditions of Egyptian music were beginning to pave the way toward popular songs with broad appeal.
Themes of modernization, progressive thinking and multicultural identity were addressed with an honesty that made Darweesh a "Soul of the People" indeed.
CCOE recreate the feel of early 20th century Egyptian music via the use of qanun (zither), 'ud (lute), nay (flute), Arabic percussion, strings and voices both male and female. Meditations on earthly and divine love characterize many of the songs, along with the growing sense of national pride in Egypt at the time. But all that's covered in the lyric translations the liner notes provide.
Your first concern should be to immerse yourself in listening to these beautiful vintage-styled sounds, the likes of which inspired legendary artists from Um Kalthum to Youssou N'Dour.
Buy Randana and The Songs of Sheikh Sayyed Darweesh: Soul of a People
Author:
Tom Orr
Tom Orr is a California-based writer whose talent and mental stability are of an equally questionable nature. His hobbies include ignoring trends, striking dramatic poses in front of his ever-tolerant wife and watching helplessly as his kids surpass him in all desirable traits.