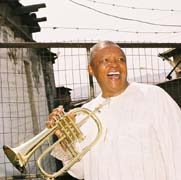 New York (New York), USA – South African Jazz Legend Hugh Masekela will perform at SOBs on Tuesday, April 25 at 8pm & 10:30pm. Tickets are $25/advance & $30/door. SOBs is located at 204 Varick Street, NY, NY.212-243-4940.
Hugh Masekela was born near Johannesburg in 1939. He was originally introduced to the trumpet by anti-apartheid activist Father Trevor Huddleston. After going into exile in 1961, Harry Belafonte helped him to settle in the US as a student
and in 1968 he recorded the number one hit "Grazing in the Grass." By the beginning of the 1970's he had attained international fame, selling out all of America's festivals, auditoriums and top nightclubs. Heeding the call of his African roots, he moved to Guinea, then Liberia and Ghana after recording the historical " Home is where Music is" with Dudu Pokwana.
After a pilgrimage to Zaire in 1973, he met Fela Kuti in Nigeria and again with Stewart Levine, he met Hedzoleh Soundz a grassroots Ghanaian band Fela introduced them to. For the next five years they produced a string of ground breaking records, which included international favorites such as "The Marketplace", "Ashiko". "The Boy'z Doin It", "Vasco Da Gama", "African Secret Society" and the evergreen "Stimela". After a tour and two duet albums with Herp Albert, Hugh and Miriam Makeba played a Christmas Day
concert in Lesotho in 1980 where 75 000 people came to see them after they had
been away for 20 years from the region.
In 1981, Hugh Masekela moved to Botswana where he started the Botswana international School of Music with Dr. Khabi Mngona. His record label, Jive Records, helped him to set up a mobile studio in Gaborone where Stewart produced "Techno Bush" from which came the hit single "Don't Go Lose it Baby" in 1986, he unexpectedly had to leave with his band Kalahari for England, his wife Lindi Phahle along with 14 people in the pretext of raiding "communist terrorist camps" manned by South African Anti-Apartheid activists.
While in England, Hugh Masekela conceived the Broadway musical "Sarafina" with Mbongeni Ngema. In 1987 he recorded "Bring Him Back Home" which became the anthem for Nelson Mandela's world tour after his release from prison. After touring Paul
Simon on the "Graceland" tour with Ladysmith Black Mambazo and Miriam Makeba,
Masekela returned home following the un-banning of political parties and the release of Mandela.
In 2005 Masekela released his newest record, Revival on Head's Up Records.
For more information go to: www.SOBs.com.
Author:
World Music Central News Department
World music news from the editors at World Music Central