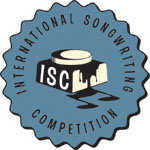 Nashville (Tennessee), USA – The International Songwriting Competition (ISC) has announced today the winners for its 2005 annual competition. ISC received almost 15,000 entries from 82 countries in its fourth year. ISC prizes include more than $150,000 (USD) in cash and merchandise shared by 50 winners in 16 categories.
African songwriters placed exceptionally well in ISC 2005, winning First, Second, and Third Place in the World Music category and also earning two Honorable Mentions. It is the first time since ISC's inception that all the winning songwriters in the World Music category have come from African countries.
"Run," written by Selasee Atiase, is awarded First Place in the World Music category. Born in Accra, Ghana, Atiase started playing guitar and performing with his local church group in his early teenage years. He graduated from the School of Performing Arts at the University of Ghana, Legon in 1999 and has been performing and recording since then. In addition to the ISC win, another big break for the song "Run" came at the 2005 Midem in Cannes, France, where the song was chosen for the soundtrack of the "Fifa 2006" video game by EA Sports. His debut album, recorded by Running Dream Records, is receiving airplay across the U.S., Germany, and Ghana.Second Place in the World Music category is awarded to Chiwoniso Maraire for her song, "Rebel Woman." Maraire comes from a musical background, as her father taught marimba and mbira, and her mother was a singer, dancer, and traditional drummer. Hailing from Zimbabwe, she joined her first musical group when she was only 15. Maraire hasn't slowed down since – in the last year alone she's worked with many talented musicians and writers from all over the world, including Kris Kristofferson and Sinead O'Connor; recorded the soundtrack for a short film; represented Zimbabwe in the UNDP Africa 2015 project, and released the completely acoustic album containing Rebel Woman, titled Timeless, with her group Vibe Culture.
To complete the sweep of the World Music category by African songwriters, Nairobi native Ngalah Davis won Third Place with his song, "Ji Opogore." Davis began his musical career performing a cappella in churches in the ghettos of Nairobi. Since then, his group, Yunasi, has progressed into a full-fledged band inclusive of guitar, bass, keys, drums, congas, and other percussions. They have always been determined to make music that reflects their heritage and culture, and out of that determination came a unique sound that the group calls Sesube — an acronym for the indigenous Seega, Sukuti, and Benga beats which their music encompasses. They have played shows at the Carnivore, Alliance Francaise, and the Italian Institute of Culture. In addition to the third-place win in ISC 2005, Yunasi also won Best Afro-Fusion Artiste/Group Award at the 2004 Kisima Awards, and were the first East African group to be invited to perform at the 15th edition International Africa Festival in Wurzburg, Germany.
Honorable Mentions were awarded to Tanzanian songwriter and artist Saida Karoli for "Maria Salome"; and Kenyan songbird Suzzana Owiyo for her song "Kisumu 100 (Benga Mix)."
The complete list of African winners includes:
First Place Winner
"Run" – Selasee Atiase (Accra, Ghana)
Second Place Winner
"Rebel Woman" – Chiwoniso Maraire (Harare, Zimbabwe)
Third Place Winner
"Ji Opogore" — Ngalah Davis of Yunasi (Nairobi, Kenya)
Honorable Mentions
"Kisumu 100 (Benga Mix)" — Suzzana Owiyo (Nairobi, Kenya)
"Maria Salome" — Saida Karoli (Dar Es Salaam, Tanzania)
For a complete list of all ISC winners, please go to:
http://www.songwritingcompetition.com/winners.htm
Judges for the 2005 competition include: Tom Waits; Loretta Lynn; Sonny Rollins; John Scofield; Steve Vai; Macy Gray; Joss Stone; MercyMe; Amy Ray (Indigo Girls); Darryl McDaniels (Run D.M.C.); LeAnn Rimes; Isaac Brock (Modest Mouse); Jeff Stinco (Simple Plan); BeBe Winans; Peter Hook (New Order); Benji Madden (Good Charlotte); Charlie Musselwhite; The Donnas; Monte Lipman (President, Universal Records); Keith Wozencroft (President, Capitol Music UK); Glen Barros (CEO/President, Concord Records); Bruce Iglauer (Founder/President, Alligator Records); Cameron Strang (President, New West Records); Dan
Storper (President, Putumayo World Music); Michael McDonald (President, ATO Records); Alexandra Patsavas (Owner, The Chop Shop Music Supervision – credits include The OC, Grey's Anatomy, Without A Trace, Carnivale, Rescue Me ); Darrale Jones (VP A&R Urban, Atlantic Records); Chris Parr (VP Music Programming & Talent Relations, CMT); Barbara Sedun (VP Creative, EMI Music Publishing Canada); Tara Griggs-Magee (Executive VP of Gospel/Urban Music, Sony Records); Leib Ostrow (CEO, Music For Little People), Thomas Brooman (Co-Founder/Artistic Director, WOMAD); Cory Robbins (Founder/President, Robbins
Entertainment); Emily Wittmann (Vice-President, Nick Records); Patrick Moxey (President, Ultra Records/You Records/Sequence Records/Escondida Music/Empire Mgmt.) and Danny Epstein (Music Supervisor, Sesame Street/Sesame Workshop).
2005 Sponsors include: Epiphone, ASCAP, Berklee College Of Music, L.R. Baggs, Disc Makers, Alphabet Arm Design, FYE, Cakewalk, Fishman Transducers, ADK Microphones, Moog Music, Sam Ash Music Stores, Sibelius, Planetary Group, Hear Technologies, Music Registry, Mediaguide, ArtistMonitor, Onlinegigs.com, Musician's Atlas, Sonicbids and Performer.com.
Author:
World Music Central News Department
World music news from the editors at World Music Central