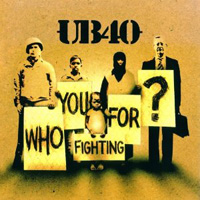 UB40
Who You Fighting for?
(Rhino R2 73305, 2006)
I wasn't ready to write off UB40. True, they hadn't made a really good album in quite some time, but there was reason to believe they could bounce back. They were survivors, after all. Since their humble
beginnings in Birmingham, England, they'd been raked over the coals for any number of reasons.
Reggae purists complained that UB40 weren't Jamaican, that they were mostly white, that they were nothing more than a pop band with a reggae beat, that they had big hits covering pop songs (as though Jamaican reggae artists never did) and that their success was somehow a sellout to the reggae cause. Okay, there's no denying they became a lot more commercial after 1986's great Rat in the Kitchen album, but their overall body of work, including such undeniably strong original tunes as "Food for Thought," "Tyler," "One in Ten" and "Sing Our Own Song," is still impressive.
Their worth was proved beyond doubt on the 2002 release UB40 Present The Fathers of Reggae, which, in something of a turnabout, featured such greats as Gregory Isaacs, the Mighty Diamonds, Alton Ellis and Max Romeo covering UB40 songs.
Whether you take their previous quarter-century of ups and downs into account or not, this new UB40 album- with their original lineup intact -is a gem. Who You Fighting for? plays to all their strengths: As a socially conscious reggae band, a reggae cover band, a band that has taken reggae to the four corners of the earth and a band that has developed into a crack unit of players, singers and songwriters.
They lash out against Iraq war on the title track and "Plenty More," denounce the human cost of materialism with "Bling Bling," show their penchant for lover's rock with "Gotta Tell Someone" and a cover of Gene Chandler's "Good Situation," transform the little-known Lennon/McCartney composition "I'll be on My Way" and bring a touch of Indian bhangra to "Reasons." And they do it all and more with that killer combination of reggae rhythms and pop hooks that's always served them so well.
Nope, no reason at all to write off UB40. They're back with an album of first-rate reggae that's as much a gift to their fans as it is a dismissal of their detractors.
Buy the CD:
In North America: Who You Fighting for?
Author:
Tom Orr
Tom Orr is a California-based writer whose talent and mental stability are of an equally questionable nature. His hobbies include ignoring trends, striking dramatic poses in front of his ever-tolerant wife and watching helplessly as his kids surpass him in all desirable traits.