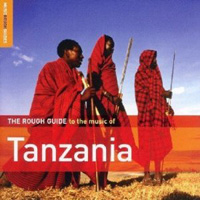 Various Artists
The Rough Guide to the Music of Tanzania (World Music Network RGNET 1158 CD, 2006)
A quick scan through my hopelessly disorganized collection revealed that I didn't have much in the way of music from Tanzania, so I welcomed this collection with arms and CD player wide open. And a great disc it is, chock full of contemporary and traditional styles, many of which have flourished in the dozen years since Tanzania's government eased up on restrictive guidelines tied in with an enforced sense of national pride. Thus there is plenty of hip-swiveling dance music (some of it closely resembling Congolese rumba, some with a more distinctly East African flair), Swahili taraab in both classic and more modern forms, rap and a few different takes on traditional music.
I was previously unfamiliar with most of these artists, so it was a pleasure getting clued in to the voice/guitar/percussion sweetness of Saida Karoli, the soukous-style swing of Mlimani Park Orchestra and Vijana Jazz Band, the Master Musicians of Tanzania's marimba-driven rumble and the fervent testifying of Nia Safi and Imani Ngoma Group, whose bumpity electric/acoustic offering is perhaps the highlight of the album. Missing are familiar names like Remmy Ongala, Hukwe Zawose and Orchestra Makassy, but there's more than enough variety here to compensate and satisfy.
Buy the CD:
Author:
Tom Orr
Tom Orr is a California-based writer whose talent and mental stability are of an equally questionable nature. His hobbies include ignoring trends, striking dramatic poses in front of his ever-tolerant wife and watching helplessly as his kids surpass him in all desirable traits.