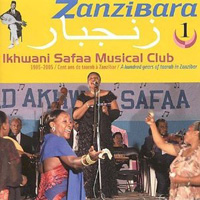 Zanzibara 1 – Ikhwani Safaa Musical Club: A Hundred Years of Taarab in Zanzibar (Buda Musique 860118, 2005)
Zanzibara 2 – Various Artists: Golden Years of Mombasa Taarab (Buda Musique 860119, 2005)
Taarab, a combination of Egyptian orchestral lushness, Arabic and African rhythms and musical inspirations from throughout the Indian Ocean and beyond, is the music of the Swahili coastal regions of
East Africa. The style has grown and evolved since its beginnings as entertainment for sultans and their courts more than a century ago, and these two superb and fascinating CDs show where it's been and where
it's at.
Zanzibar's Ikhwani Safaa Musical Club, first established in 1905, has grown into a lavish big band of vocalists, violins, qanun (zither), ney (flute), 'ud (lute), percussion, accordion and more recent additions of bass, guitar and keyboard. The seven songs and one instrumental onZanzibara 1 move with a stately ensemble grandeur that's instantly captivating and stays so.
It's the sort of music that adjectives like "exotic" were tailor-made for. The songs deal with love and everyday life, the sound is intricate and beautiful and though it's been asserted that taarab is more for listening than dancing, you may well find yourself grabbing the one you adore and swirling ecstatically. "Ikhwani Safaa" is an Arabic phrase that roughly translates as "brothers who love each other." The love that these brothers (and sisters) radiate through their music is as obvious as it is infectious.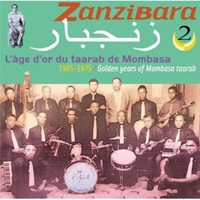 Zanzibara 2
is comprised of Kenyan coastal taarab recordings dating from 1965 to 1975. It's a more raw and stripped-down sound than the first volume, full of vintage tartness similar to much of the music in Buda's acclaimed Ethiopiques series. The Arabic roots of taarab are more evident, as is the way the music was able to accommodate such instruments as the Japanese tashkota and the Indian tabla and harmonium. Matters of the heart once again figure heavily into these songs, which are not as lush and sophisticated as those of the larger taarab ensembles that were to come but have a funky charm all their own.
Both discs have extensive, richly illustrated and detailed liner notes that tell the story of this wonderful music. If you've already got a taste for taarab or are looking to develop one, consider these essential purchases.
Buy the CDs:
Author:
Tom Orr
Tom Orr is a California-based writer whose talent and mental stability are of an equally questionable nature. His hobbies include ignoring trends, striking dramatic poses in front of his ever-tolerant wife and watching helplessly as his kids surpass him in all desirable traits.