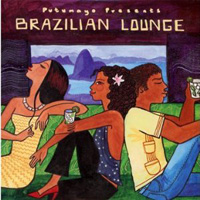 Various Artists
Brazilian Lounge(Putumayo PUTU 247, 2006)
This collection might be seen as the flip side of Putumayo's Acoustic Brazil from last year, continuing a string of fine Brazilian releases the label has put out. But they're not really polar opposites- actually, this one's got a similarly relaxed air. The electronica chill that laces these tracks is meant to enhance, not dominate, a prevailing classic feel centered around familiar samba and bossa nova rhythms.
The lovely Paula Morelenbaum opener "Brigas Nunca Mais" lets acoustic guitar and percussion establish the mood before the lounge beats truly kick in, and on those songs where the plugged and unplugged sides leave the starting gate at the same time, the contemporary edge never gets out of hand. So we get to enjoy the swagger of Marcos Valle's "Agua de Coco," the way producer BiD's quirky rhythms underscore Seu Jorge's authoritative purr on "E Depois…," Bebel Gilberto's bilingual romantic musings and other juicy examples of various remixers and tinkerers giving longstanding Brazilian motifs a bit of additional refreshment.
The artists are a good mix of well-and-lesser-knowns (newcomer Luca Mundaca is quite a find), adding to how wonderfully this album plays it both ways: Subdued yet strong. Recommended.
Buy the CD:
Author:
Tom Orr
Tom Orr is a California-based writer whose talent and mental stability are of an equally questionable nature. His hobbies include ignoring trends, striking dramatic poses in front of his ever-tolerant wife and watching helplessly as his kids surpass him in all desirable traits.