Eye witness report – by Peter Bennett
On the waterfront in Stone Town it's relaxing to sit in the shade of the Forodhani gardens and sip avocado juice; lazily watching the dhows sailing to and fro. However, on one afternoon in February your attention would surely be drawn towards the bandstand. The repetitive jazzy sound is growing louder. The trumpeters and drummers of the Beni ya Polisi band are just arriving having completed their parade through the narrow twisting streets of the old town. Another dhow sails past and it is the turn for another musical style.
Sinachuki Kidumbak consist of a traditional taarab band, a master crooner, and four mature lady dancers whose hips rotate in a rhythm that you never imagined possible, and very sexy it is too. As the sun sets, the soft light spills across the gardens reaching the walls of the old fortress behind, the decoration and banners confirm we are in the right place. It's time for Sauti za Busara, it's time to go inside.
The Old Fort was built by Omani Arabs in the 18th century but was never really used in anger and eventually fell into disrepair. About 15 years ago it was restored and now it is very much alive with music, cultural shows and occasionally film screenings. Today, an enormous stage has been constructed at one end, complete with lighting towers and speaker stacks. An eager audience are sitting on the grass, VIPs are being shown to their seats, and food stalls around the perimeter are preparing for business.
While 93 carefully recruited staff go about their duties, festival organizer Yusuf Mahmoud is relaxing in Forodhani gardens – or at least that is how it appears. The sun has set and the sky is now a fiery orange. Actually he is taking part in a live radio program on the BBC World Service and that suitcase on the park bench is a portable satellite transceiver. "Hello London, and greetings from the Swahili Music festival in Zanzibar."
Back in the Old Fort the stars are beginning to appear, both in the sky above and on the festival stage. The music is going down well. The festival features around 30 groups from the region and a few guests from further afield. Already, Taffetas – a hybrid of west African kora, Indian inspired acoustic guitar and Swiss jazz – have caught the breath and the imagination of the audience. The lady vocalist's voice is pure, persistent and penetrating, like a tropical ocean breeze.
The Shrine Synchrosystem, inspired by the great Fela Kuti's Lagos club, have taken their show all over the world; and now it is Zanzibar's turn. A quiet, curious, perhaps skeptical, audience watch and wait, and slowly without realizing get drawn into the spell as the DJs Rita Ray and Max Reinhardt slowly, subtly and successfully build up their sequence… suddenly it is too late, the music has taken hold, the rhythm has become our heartbeat – we had become one.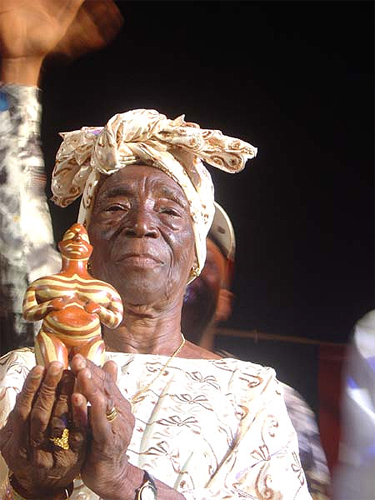 Later on the first night the audience are treated to a 7 minute trailer for a forthcoming documentary film about Bi Kidude: Zanzibar's grand old lady, ambassador of traditional msondo, unyago and taarab to the world. After the screening she comes on stage to show-off the "Lifetime Achievement" award she collected at the World Music Expo in Europe last October.
The next night she's singing and thumping her drum in a style called Unyago Ngoma. It relates to preparing a bride for marriage. A group of fully-clothed mature lady dancers work through a sequence of positions and gyrations that would surely keep any husband interested and faithful.
On Sunday evening, she is back again for a very special, once-off performance
accompanied by a "chamber orchestra" of Zanzibar's finest taarab masters. Nothing in her voice betrays her age. Her style is sombre, deliberate and refined. The sound is perfect; the audience silent and spellbound. This is Bi Kidude as she might have sung on these shores 75 years ago.
The festival showcases mostly Swahili music and performing arts: drum, dance, drama, traditional, modern, hiphop, and even acrobats and stilt walkers. This year there are excellent cultural dance performances from Black Roots, Kyandu, Zemkala and Mkalimala – all names to watch out for around Tanzania.
And of course it is not all traditional. The clubs of Dar-es-salaam are bursting with exciting young talent and some of them have made their way across the water to join us. Evenings are rounded off with the likes of: Ferooz, Lady Jaydee, Mandojo & Domokaya, Wagosi wa Kaya and Mchinga Generation.
But most interesting of all is a band called Jagwa Music. Musically they have a pleasing, teasing mchiriku rhythm played mostly on improvised instruments, and their performance is wonderfully enhanced by a mixed group of young dancers. Now it gets electric, there is a raw energy and it is fun. It makes me feel happy; it makes me want to dance.
It is remarkable, how in three short years, this festival has become so established. The interest regionally and internationally has been extraordinary. And within Tanzania too it
has been adopted as one of the essential events on the party calendar. One of the things the organizers are particularly keen to hang on to is the friendliness. People of all ages, and backgrounds make the effort to be here. They bring their children, they bring their parents, girlfriends, bicycles and juggling balls. The atmosphere is excitement, the anticipation is enormous – and once the show begins you know it is simply the best place to be.
Next year's Sauti za Busara festival will be 8-14 February 2007, and it comes highly recommended. Further details at www.busaramusic.com.
Author:
World Music Central News Department
World music news from the editors at World Music Central