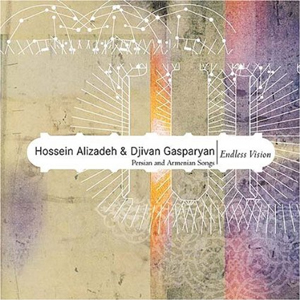 Los Angeles (California), USA – On Endless Vision, Armenian duduk virtuoso Jivan Gasparyan and Iranian instrumentalist Hossein Alizadeh have recorded a once-in-a-lifetime experience. Within Iran, this album has already caused a commotion amongst certain social conservatives. While the live concerts that led to Endless Vision were allowed by Tehran's department of public programs, initial attempts to issue the recording in Iran ran aground of the nation's Ministry of Culture, which must approve all audio recordings to be released in the country.
In the case of Endless Vision, permission to release the album in Iran was delayed two years because a female singer, the sweet-voiced Afsaneh Rasaei (a longtime pupil of Alizadeh), performed alongside a male ensemble-a situation still controversial in Iran. That decision has only recently been reversed, finally giving a wider Iranian public access to this magical event. (Alizadeh's concerts are anxiously awaited amongst his countrymen; before a recent series of massively popular Masters of Persian Music concerts, fans were sleeping outside ticket offices in Tehran.)
Endless Vision was recorded live during a series of concerts the virtuosos gave in the gardens of Tehran's Niavaran Palace in September 2003. "The gardens are located in the northern outskirts of Tehran," says Alizadeh. "There, in the foothills of the Alborz mountains, the air is cool and fresh; it has a lushness and peacefulness far removed from the noise, traffic and pollution of the city."
The palace's tranquil environment was the perfect ground for a summit meeting between two standard-bearers. In these concerts, performed for crowds of thousands, the soloists' masterful playing was elegantly framed by Mr. Alizadeh's Hamavayan Ensemble, a group featuring female and male vocalists, strings and percussion performing the Persian classical tradition, and two Armenian duduk players.
"The music of Iran and Armenia is a language shared between the two nations," says Alizadeh. "It's a mirror reflecting history in each phrase." This is music at the crossroads of three traditions, and three peoples: Armenian, Azeri, and Persian." This concept is entirely organic, especially given the presence of a large and vibrant ethnic Armenian community within Iran whose presence reaches back to the early 16th century. With that in mind, Mr. Alizadeh adds, "we dedicate this project to Iranians and to Armenians, and especially to Iranian-Armenians."
The opening selection, "Birds," is a composition by Alizadeh which sets verse by Iranian poet M. Azad (b. 1933): "Birds/soar high into the air/looking after the winds…" the poem says. "Earth remains uncovered/and gardens full of illusions/Back to me comes your graciousness/more generous than the sun."
The second track, "Armenian Romances," is an evocative improvisation by Gasparyan. The following "Sari Galin (Yellow Bride)" is a beloved traditional Armenian song that nearly all Iranians know. As such, it's a microcosmic look at the cultural interplay that underpins Endless Vision. "Iran has a large Armenian community," observes Gasparyan, "who live side-by-side with other ethnicities. There is an instinctual closeness between Armenia and Iran."
An instrumental written by Alizadeh returns to the avian theme: titled "Call of the Birds," the piece shows off the Persian musicians' virtuosity, accompanied by vibrant percussion. "Mama," whose lyrics and music were composed by Gasparyan, is a song full of tenderness; his vocals on this track are full of love and a nostalgic evocation of times gone.
For Endless Vision, Alizadeh uses a new instrument, a six-stringed plucked lute called the shurangiz, which combines aspects of three other Iranian lutes (the plucked, six-stringed tar, the four-stringed setar, and the Kurdish tanbur instrument). Although the shurangiz was first created about 50 years ago, Alizadeh has experimented with the lute and modified it to the point of making it his own. The unique sound of this new instrument-at once delicate and richly voiced-comes to the fore in "Shurangiz Improvisation."
The album's final track, "Tasnif Parvaneh Sho…" makes use of poetry penned by Sufi mystic Rumi.
Buy the CD:
Author:
World Music Central News Department
World music news from the editors at World Music Central