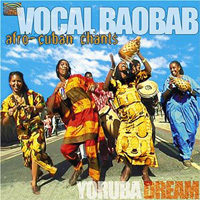 Vocal Baobab
Yoruba Dream: Afro-Cuban Chants (ARC Music EUCD 1965, 2005)
The Yoruba pantheon of deities forming the basis of the Santeria religion have their praises sung here, representing a true African spirit that survived the cruelty of the slavery era and continues to be
celebrated in various forms in the Western Hemisphere. True, the Orishas (deities) honored in Santeria were syncretized with Catholic Saints in order to avoid their being outlawed by colonial authorities, but it's mostly African-rooted singing and percussion heard here.
Sacred bata drums are joined with chekere (gourd rattle), campana (cowbell), claves (rhythm sticks) and congas in a swirling mesh of sound that accompanies chants which can be rousingly celebratory or comparatively subdued.
As is customary, the opener is dedicated to Elegua, God of Entryways and Paths, literally leading toward what follows. Chants to various high-ranking deities unfold in succession, including praises directed to Obatala (Father of the Orishas), Yemaya (Goddess of the Waters) and Chango (Warrior God of Thunder and Lightning). The sheer might of percussions and voices, sometimes joined by piano, sparse effects and rap-like intonations, cut straight to the soul and spirit.
These are raw, gorgeously gripping sounds, highly recommended for those wanting to familiarize themselves with the roots of all that Cuban and other Latin music that's so popular now (and, for that matter, anyone who knew that Desi Arnaz wasn't just spewing nonsense whenever he shouted "Babalu!")
Buy the CD:
Author:
Tom Orr
Tom Orr is a California-based writer whose talent and mental stability are of an equally questionable nature. His hobbies include ignoring trends, striking dramatic poses in front of his ever-tolerant wife and watching helplessly as his kids surpass him in all desirable traits.