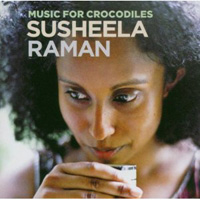 Susheela Raman
Music For Crocodiles (Narada 72438-63402-2-1, 2006)
Susheela Raman's prior releases Salt Rain and Love Trap (both also on Narada) rightly got considerable notice and acclaim.
Of Tamil Indian heritage but born in London and raised largely in Australia, Raman has forged a musical identity that is as much founded upon South Indian Carnatic classical traditions as a farther-reaching sensibility that blends African, Asian and European sounds with casual grace and ease.
Her voice- commanding, innocent, focused and sexy all at once -can seemingly sing anything. From the Ethiopian-based title track of Love Trap to a version of "Trust in Me" (think back to Disney's "The Jungle Book") to Indian spiritual songs and tracks that could heat up any urban dance floor, Raman has been pegged as one of world music's most
versatile artists.
Her new album, intriguingly titled Music For Crocodiles, goes for new levels of both accessibility and adventure. She sings far more song in English this time, keeps a distinct Indian feel along with some pan-Eastern grooves and modalities and shows a knack for composing her own tunes.
The disc was produced by Brit guitar whiz Sam Mills (Raman's musical collaborator for several years in addition to now being her spouse), and the overall feel (presumably intended) is that of pop fusion music which is both challenging and thoroughly enjoyable.
Raman may well be aiming for greater mainstream success here, and if so, she has the uncompromising means to achieve it. Her singing is effortlessly emotive, whether she's warbling of matters sensual, devotional or surreal, and the mostly acoustic backing is full of quietly urgent beats and jazz-sprinkled melodies that are chilled but not cold.
Definitely her most intimate album to date, Music For Crocodiles is also a very engaging display of what a visionary artist can achieve by expanding upon rich musical roots (in this case South Indian) to create a signature sound combining musical and cultural ideas well beyond any perceived borders.
Even if your skin isn't that of a crocodile, the sounds on this disc will get under it. And deeply.
Buy the CD:
Author:
Tom Orr
Tom Orr is a California-based writer whose talent and mental stability are of an equally questionable nature. His hobbies include ignoring trends, striking dramatic poses in front of his ever-tolerant wife and watching helplessly as his kids surpass him in all desirable traits.