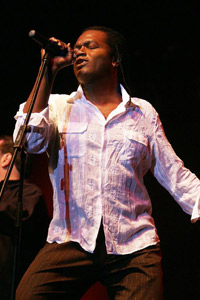 Chicago (Illinois), USA – Congolese salsa star Ricardo Lemvo & Makina Loca will perform at Chicago's HotHouse with special guests from Peru Negro. The concert will be held Saturday, March 4 10:00pm $20 in Advance, $25 at the door, (21 & Over)
Ricardo Lemvo has established himself as a pioneer with his innovative music, combining Latin and African elements from salsa to soukous with an occasional merengue or Afro-Portuguese excursion. This Congo-born artist of Angolan ancestry is the embodiment of the Afro-Latin Diaspora which connects back to Mother Africa via the Cuban clave rhythm. Lemvo is truly multicultural and equally at home singing in English, French, Spanish, Portuguese, Lingala, and Kikongo.
Since forming his Los Angeles-based band Makina Loca in 1990, Lemvo has refined his craft and vision, raising his joyous voice with strength, singing songs that celebrate life, and most importantly, inspiring his audiences to let loose and dance away their worries.
Through the years, Lemvo has performed countless shows and in many prestigious festivals throughout Europe, the Americas, and Australia. Giving him the ultimate form of respect, his songs have been performed and recorded by such Latin luminaries as Colombia's Joe Arroyo, and Orquesta Reve from Cuba.
Lemvo's four CDs, Tata Masamba, Mambo Yo Yo, Sao Salvador and Ay Valeria! have been enthusiastically acclaimed by both print and broadcast media worldwide. The Beat Magazine named Tata Masamba the CD of the year for 1996. Sao Salvador reached # 2 on the European World Music chart for May 2000.
Ricardo Lemvo and Makina Loca have also been nominated for various awards including the California Music Awards, The Los Angeles Weekly Music Awards. The American World Music Awards voted Lemvo and his band the Emerging Artist of 1998.
Lemvo has been the subject of various national and international radio and television programs including BBC Radio, Radio France International, National Public Radio, CBS Sunday Morning, the NBC Today Show, CNN World Beat.
HotHouse is located at 31 East Balbo Chicago, IL 60605. Phone: (312) 362.9707, Fax: (312) 362.9708.
Author:
World Music Central News Department
World music news from the editors at World Music Central