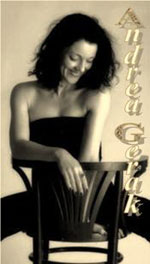 Looking for musical beauty and searching to find new and impressive artists, so that they leave us perplexed and without words, with their talents… One only needs to start to look on web sites like soundclick.com, mperia.com, jamendo.com, magnatune.com, nuevasmusicas.org… And for us, particularly, the exuberant and enigmatic voice of this petite Hungarian woman called Andrea Gerak has not left us indifferent. As she confesses, her influences include voices like Enya, Lisa Gerrad, Sally Oldfield and Clannad or her compatriots Marta Sebestyen and Iren Lovasz.
At the beginning, this woman from Budapest was a soloist, a dancer and singer in various folk groups of her country, and now she tries to guide her career as a solo vocalist, therefore she makes herself known on these web sites that are promoting artists who are just beginning and who have not even sent an album to the market yet.
She performs primarily Hungarian folk songs, either a capella or as world fusion, or with electronic instruments in a marriage with a fusion of textures. Other styles can also be found in her repertoire: pop, rock or jazz tunes.
If you readers of this blog, are of those people who are passionate about new "celestial voices", we encourage you to find out how Andrea Gerak sings. One must only know how to search in web sites as the above mentioned, in order to run into artists of enormous quality, because there is "much more gold than what shines to simple view". And this singer alone is an example of it. …it is even possible that she will collaborate with a Spanish artist named Cambridge [Ángel Orós].
We expect that this collaboration when carried out will produce a musical encounter in which there will be sparks of creativity as voice and synthesizers marry, as it has never been imagined before.
As Ramón says, being referred to and listening for the first time to this "charming" music: "she is charming!" for its intrinsic quality; but that remains hidden to the listener and to the music critics entertained in other sacred homes of sound. "Knock, knock. I am here to be discovered. What are you going to do with me then? " Will you be one of the first ones to meet such musical wonders? That should be your challenge, it's already ours, since a while.
Official Andrea Gerak site: www.andreagerak.com.
[Original article: dialogos3.blogia.com/2006/020501-andrea-gerak-la-voz-hungara-femenina-y-enigmatica-posible-sucesora-de-marta-sebe.php, reproduced courtesy of dialogos3.blogia.com, Comunidad de Oyentes de Diálogos-3.