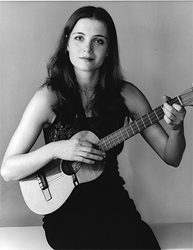 Marta Topferova
Jazz Alley
Seattle, Washington
February 1, 2006
The musical spheres of Czech musician-composer Marta Topferova and Cape Verdean vocalist Lura are polar opposites. Yet, the night before I caught Marta Topferova in concert performing Latin American repertoire at the elegant and subdued Jazz Alley, I caught the fiery Lura in action at the packed Triple Door. I had a little bit of trouble shifting gears from the Afro-Latin-charged atmosphere that Lura created to the intimate atmosphere of Latin poetry and folkloric style associated with Topferova. While Lura reminded me of hot summer climes, Topferova's performance evoked snowy streets of New York City and Pablo Neruda.
Topferova along with bassist, Pedro Giraudo and violinist Jenny Scheinman performed wistful folkloric music and original compositions on a small intimate stage with only a purple velvet theatrical curtain as a backdrop. In contrast with Seattle's gray skies and rain, Ms Scheinman donned a bright red satin dress that reminded me of old fashion Valentine's day images. Topferova dressed in a black folkloric skirt and sweater that evoked both the jazz world and traditional cultures from around the globe and Mr. Giraudo wore jazzy black and his acoustic stand-up bass looked like it grew out of a tree trunk–a very exotic instrument.
I mention what the performers were wearing because their choice of clothing says a lot about each of their musical temperaments and styles. Part of the excitement of Topferova's innovative music is that she blends elements of Latin jazz with folkloric traditions.
She's a fascinating musician and composer in her own right, hails from the Czech Republic, but performs Latin music. She plays the Venezuelan 4-string cuatro (a lute, just slightly larger than a ukulele) with a great deal of passion and virtuosity. She composes lyrics that act as a call & response to Latin American poetry and although not of Latin temperament by heredity, she brings in refreshing European elements to her repertoire. No one could ever accuse of her of acting out a cliché and from what I could tell by observing the attentive audience, her songs reach her fans on a deep level. She sings her offerings in perfect Spanish while also honoring South American musicians that have fueled her own endeavors.
With little fanfare, the trio broke into Ensueño from Marta's 2005 recording, La Marea. Although Latin American music is known for its lush polyrhythms and especially the Venezuelan-Colombian repertoire in which Topferova modeled her songs, there were no percussion instruments in sight. Topferova provided South American rhythms such as gaita on her cuatro.
Scheinman's violin which arched and slid from note to note and often provided melodic lines, could be described as intensely lyrical and daringly innovative. Of course, Scheinman is known for her innovative performances and has worked with diverse musicians as Bill Frisell and classical Indian khayal vocalist Shweta Jhaveri.
Giraudo anchored Topferova's compositions through his subtle bass playing which often included quick bass runs and he bowed his acoustic bass on a Czech folk song in which Topferova lovingly dedicated to her mother and sister who were in attendance.
Just when I thought I would be able to sit back and enjoy a sedate evening, Marta wheeled out the feisty "Corazón Manchado," also from La Marea and she strummed her cuatro with such fury that I thought she would jump off her stool and start dancing around the stage. Further into the trio's set, Topferova performed a traditional Venezuelan song, "Pajarillo Verde," made famous by Soledad Bravo. However, unlike Bravo who performed the song in a slow ballad fashion (you can find this version on The Rough Guide to the Music of Venezuela), and accompanied by a classical guitar, Topferova sung the words of the song in rapid fire speed while effortlessly strumming intricate rhythms on her cuatro.
Certainly there were enough songs in the set performed with effortless finesse to acquire new fans and secure the old ones. Traditional songs from Argentina and Venezuela mingled with Latin New York tinged original compositions. The marriage of acoustic bass, lyrical violin and the throaty cuatro certainly provided a refreshing take on South American folkloric music.
For those folks fortunate enough to have caught one of Topferova's two Seattle appearances at Jazz Alley had witnessed musical alchemy. Topferova performed a new melancholic song called "Flor Nocturna" that will appear on her next recording with the same title. But true to the moment, the trio ended their encore with the title song from the 2005 recording, La Marea. There's no doubt that the tide has come in and brought with it musical treasures from exotic lands. And I imagine that folks who possess a wanderlust spirit will be dreaming of traveling to the haunts of legendary South American poets after listening to Topferova's songs.
Author:
PatriciaHerlevi
Patricia Herlevi is a former music journalist turned music researcher. She is especially interested in raising music consciousness. She is looking for an agent and publisher for her book Whole Music (Soul Food for the Mind Body Spirit). She founded and hosts the blog
The Whole Music Experience and has contributed to World Music Central since 2003.