(Trojan/Sanctuary 06076-80548-2, 2005)
Lyn Taitt & the Jets – Hold Me Tight: Anthology 65-73 (Trojan/Sanctuary 06076-80543-2, 2005)
The evolution of Jamaican popular music from ska to rock steady to reggae is familiar yet elusive, coming about as a result of both musical and cultural changes. Jamaica's cultivating of post-colonial sounds and the influence of West Indian communities abroad are but two of the many factors involved. The Trojan Records label has long specialized in helping tie the story together, presenting various aspects of Jamaica's rich musical history in accordance with times, places, styles and personalities involved.
Long before the word "skinhead" was cursed with the racist stigma it bears today, it described a subculture of late-'60s U.K. youth who had turned their backs on the pervasive mod scene. These crop-haired, braces-and-boots-wearing trendsetters embraced the grooves of rock steady and reggae (or bluebeat, as they called it), prefiguring the alliance between reggae and punk that came later as well as the second wave of ska brought about by British bands like the Specials.
Dawning of a New Era: The Roots of Skinhead Reggae is a two-CD, 41-track blast of some Jamaican sounds that skinheads danced and tranced to, including prime cuts by legendary vocal groups (the Ethiopians, the Pioneers, the Tennors), solo singers (Derrick Morgan, Rudy Mills, Keith Blake [later known as Prince Alla]) and instrumentalists (keyboard player Ansel Collins, saxman Tommy McCook, trombonist Rico Rodriguez). Altogether an excellent set that no fan of classic reggae should pass by. And please rest assured that no neo-nazi organizations will benefit from the purchase of it.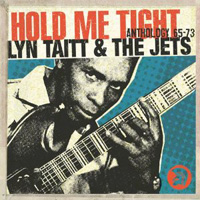 Guitarist Lyn Taitt (born in Trinidad in 1934) became a key player in Jamaican music, particularly when the beat slowed from ska to rock steady by 1966. The latter style had more looseness and open space to it, allowing lead guitar parts to play with and around the bass line, adding a melodic spark that counterpointed the choppy off beat accentuations. Taitt and his band the Jets recorded numerous instrumentals under their own name in addition to providing backing for various singers and vocal groups.
Hold Me Tight is split evenly between the two, with a whopping 54 tracks on a double disc set. Taitt's guitar is always locked in, sometimes plucking along intensely with the groove, sometimes tossing off short high-pitched runs that add color, sometimes framing the singers or other players with subtle bursts that spur things along and always showing laid back taste that has no room for indulgence.
It's on the instrumentals that the nuances really show through, but since the vocal selections include work by such greats as Johnny Nash, Joe Higgs, the Melodians and the Gaylads, you really can't go
wrong there either. Sweet, soulful stuff, all with the guiding hand of a guitarist who's earned a place alongside Jamaican greats like Ernest Ranglin.
Purchase the CDs:
In the US:
Dawning of a New Era: The Roots of Skinhead Reggae and
Hold Me Tight.
In Europe (UK):
Dawning of a New Era [the Roots of Skinhead Reggae] and Hold Me Tight
Author:
Tom Orr
Tom Orr is a California-based writer whose talent and mental stability are of an equally questionable nature. His hobbies include ignoring trends, striking dramatic poses in front of his ever-tolerant wife and watching helplessly as his kids surpass him in all desirable traits.