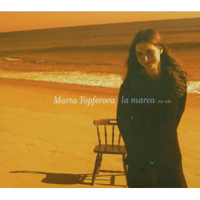 Marta Topferova
La Marea [The Tide] (World Village 468040, 2005)
I had never heard of Marta Topferova until recently when I received an e-mail about the artist from her publicist and on the same day, I turned on a Seattle-based public radio station and heard Marta's suave vocals gracing the airwaves. Her story is of interest too. Born in the Czech Republic and trained as a classical musician, Marta discovered Latin music as a child. Her family moved to Seattle, Washington in the 1980's while was ensconced her in teen years. She sang in the Seattle Girls' Chorus for four years and then took off for New York City where she continued her musical training at Bard College. It was during this time that she began taking guitar playing seriously, although she would later switch the the Venezuelan lute, cuatro (a small 4-stringed instrument with a jangly sound). She also began researching folkloric recordings from all over Latin America.
I admit when I first heard Marta's vocals backed by Latin American harp and other Latin American instrumentation, I pictured a middle-age woman vocalist, possessing the physique of a jazz dame. So I was surprised when I received her CD, La Marea in the mail. The vocalist that graces the cover is fey, almost elfish and there's even one photograph on the cover that I mistook for a young girl (back cover of the booklet). But I just love these types of paradoxes and little surprises. Here is a woman that has studied flamenco in the heart of Spain's Andalusia, studied trova and son in Cuba and also studied folkloric music in Mexico and Puerto Rico.
She returned to New York in 1996 where she immersed herself in the Colombian and Venezuelan community while brushing up on such musical styles as vals, gaita, merengue and later joropos. All of this and her love of poetry, (she cites Spain's Federico Garcia Lorca as an influence), surface on her most recent recording which blends Latin jazz with Latin folkloric rhythms and instruments. It's not the same old story and this recording is something special.
Her musical style is similar to Colombian vocalist-composer Marta Gómez in that it's laid back, yet elegant and seductive. This recording features a trio, Colombian Edmar Castañeda on harp, whose talent really shines on Limonera (lemon tree), and inventive drummer Chris Eddleton. They bring in a host of fabulous musicians and even a French horn which comes as another surprise, yet the instrument seems at home on this recording as does the Czech vocalist singing Latin folkloric music in Spanish.
The sultry set of songs are carefully arranged while allowing plenty of room for flute, horn or harp solos. The music falls closer to South American than Caribbean music, but it's probably best not to pigeon hole Marta's repertoire. Her poetry which sounds gorgeous in her adopted language travels straight to the heart. I often enjoy nature as a metaphor for daily angst or joy and the poetry here is no exception.
The delightful instrumental La Gaita Ajana brings in flute, accordion, acoustic bass, cuatro and percussion. One of the most intriguing songs on the CD is Nevada Mañana where Edmar's harp is transformed into bossa nova guitar which is embellished by Marta's restraint vocals, Chris Komer's sensual French horn and Chris Eddleton on kit drums.
Marta shows a great deal of whimsical talent in her careful arrangements and the musicians on this recording employ a great deal of creative spirit as they splash unusual colors onto Marta's musical canvas. The songs might appear light and subtle at first, but when given a thorough listen, the songs sparkle like precious gems. The tide (in the CD title) has brought manna to the shore.
Marta Topferova and her band are currently on tour. Visit the World Village site for details.
This review is compliments of Cranky Crow World Music
Buy La Marea and Sueño Verde