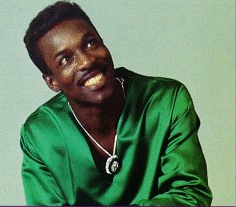 Soul legend Wilson Pickett died Thursday, January 19, 2006, of a heart attack in a Reston, Virginia hospital in a statement put out by his management company, Talent Source. Best known for hits "Mustang Sally" and "In the Midnight Hour," Mr. Pickett had been a resident of Ashburn , Virginia and was reported to have suffered recent health problems. Mr. Pickett was 64.
Dubbed "Wicked Wilson Pickett, he shot to stardom in the 1960s, with "In the Midnight Hour" and "Mustang Sally" both making the top 25 on the Billboard pop charts. Pickett, born in Alabama to a large, poor household, began singing gospel in church, but moved to Detroit as a teen. In Detroit, the young Pickett
found his calling and fame singing vocals on the 1962 hit "I Found a Love" with the R&B group the Falcons.
He launched a solo career in 1963, teaming up with producer Jerry Wexler and the famous soul label Stax Record in Memphis, Tennessee , recording "In the Midnight Hour" for Atlantic Records. Other hits to follow included "Funky Broadway," "634-5789" and "Don't Knock My Love." His rough passionate delivery and song writing skills set him apart from the smoother, silkier Motown sound.
Despite some brushes with the law and some hard times in the 1990s, including assault and drunken driving charges, Pickett was awarded a spot in the Rock and Roll Hall of Fame in 1991 and was also honored with the Pioneer award by the Rhythm and Blues Foundation. His last album, "It's Harder Now," was released in 1999 and received a Grammy nomination.
Mr. Pickett is survived by two sons, two daughters and a fiancée. He will be buried in Louisville, Kentucky.
Author:
TJ Nelson
TJ Nelson is a regular CD reviewer and editor at World Music Central. She is also a fiction writer. Check out her latest book, Chasing Athena's Shadow.
Set in Pineboro, North Carolina, Chasing Athena's Shadow follows the adventures of Grace, an adult literacy teacher, as she seeks to solve a long forgotten family mystery. Her charmingly dysfunctional family is of little help in her quest. Along with her best friends, an attractive Mexican teacher and an amiable gay chef, Grace must find the one fading memory that holds the key to why Grace's great-grandmother, Athena, shot her husband on the courthouse steps in 1931.
Traversing the line between the Old South and New South, Grace will have to dig into the past to uncover Athena's true crime.