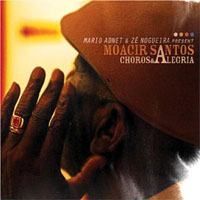 Moacir Santos and Various Artists
Choros & Alegria (Adventure Music AM1022 2, 2005)
Following the success of the critically acclaimed CD Ouro Negro, producers Mario Adnet and Zé Nogueira have once again delved into the songbook of Brazil's Moacir Santos to create another gem with Choros & Alegria. Featuring Wynton Marsalis, Ricardo Silveira, Christóvão Bastos, Armando Marçal, Teco Cardoso, Trio Madeira Brasil and both Adnet and Nogueira, Choros & Alegria is another splendid triumph, so smooth and sophisticated, you'll wonder where Moacir Santos has been all your life.
Tucked neatly into the very fabric of Brazilian music is where composer and arranger Moacir Santos has been. While most Brazilians honor and revere the man, little international attention has been paid to this maestro of Brazilian instrumental music. Teacher and mentor to the likes of Paulo Moura, Baden Powell, Sérgio Mendes and many others, Santos was awarded by the president the honor of the Oficial da Orden do Rio Branco in 1996.
With Ouro Negro and Choros & Alegria, Mario Adnet and Zé Nogueira have infused Santos with a late-in-life surge to his career by looking into the depths of Brazil's musical treasures, bringing to the international stage what the Buena Vista Social Club did for Cuban musicians.
While I would classify Choros & Alegria as a Latin jazz CD, it would be impossible to listen to the opening strains of "Agora Eu Sei" and not hear the Brazil of old and new with the big sounds of Zé Nogueira's soprano sax; Nailor Poventa on alto sax and clarinet; Marcelo Martins on tenor sax; Teco Cardoso on baritone sax; Vander Nascimento on trumpet, Vittor Santos on trombone; Antonio Henrique Bocão on bass trombone and Philip Doyle on French horn.
The best part is the entire CD follows along the same lines of easy, lush orchestration and tight, neat arrangements. "Outra Coisa" is a joyful piece with some dizzyingly smart tenor, alto, baritone sax playing along with Jorge Helder on acoustic bass; Armando Marçal on percussion; Jurim Moreira on drums; Christõvão Bastos on piano; Marcos Nimrichter on electric piano; Mario Adnet on guitar; Andrea Ernest Dias on flute and Vittor Santos on trombone.
"Paraiso" entwines in the rhythms of Jurim Moreira on drums and the sultry soprano sax of Zé Notueira. The piece is almost visual in its gentle flow tinged from time to time with the tension of regret and longing. It breathes and leaves you breathless.

"Vaidoso," "Saudade De Jacques" and "Cleonix" are other standout pieces, but "Rota" blazes through brain with a trumpet solo, by none other than, Wynton Marsalis. The sleek, poetic trumpet solo plays perfectly against Ricardo Silveira's electric guitar and Marcos Nimrichter's electric piano, all the while grounded by the entire horn section and snappy percussion.
Choros & Alegria will certainly put Moacir Santos on the map for new listeners and revive the love affair with long forgotten ones.
Purchase the CD:

Author:
TJ Nelson
TJ Nelson is a regular CD reviewer and editor at World Music Central. She is also a fiction writer. Check out her latest book, Chasing Athena's Shadow.
Set in Pineboro, North Carolina, Chasing Athena's Shadow follows the adventures of Grace, an adult literacy teacher, as she seeks to solve a long forgotten family mystery. Her charmingly dysfunctional family is of little help in her quest. Along with her best friends, an attractive Mexican teacher and an amiable gay chef, Grace must find the one fading memory that holds the key to why Grace's great-grandmother, Athena, shot her husband on the courthouse steps in 1931.
Traversing the line between the Old South and New South, Grace will have to dig into the past to uncover Athena's true crime.