Interviewing Mercan Dede is a dream ~ quite simply, you don't interview Mercan Dede, you sit with him eating mezze and drinking tea in a plush Turkish restaurant in Islington, and talk as if you had known him all your life, as if you are old friends pleased to see each other, enthusiastically swapping stories about childhood, university, art, music and other topics of mutual interest.
He's quick to talk about the very special experiences, still precious to him, of his early years in Turkey, speaking eloquently and fervently of when, at the age of six, traveling in a car with his mother in his home town of Bursa, he first heard a sound on the radio that transfixed him; she told him it was the ney ~ the Turkish flute. That sound never left him and years later, he made his first ney after seeing one in a shop in Istanbul.
As an 18 year-old student, with little money and during the hard times of the military coupe of the 1980s, the price was beyond his means; grabbing a piece of paper from the gutter he marked it with the length and the position of the holes, bought the cheapest plastic water pipe and improvised. He smiles when he remembers the terrible sound it made, but for all its faults, he has kept it and still has it on his wall as an icon of his inspiration. These days his neys are made by a master craftsman in Istanbul from specially selected bamboo, the sections of which have to be a precise length for the positioning of the holes ~ and incredibly only one in 5,000 lengths are suitable. He's also made Mercan a plastic ney as a homage to that ancestral water pipe, this one works!
Mercan has lived in Canada since the 1990s, not perhaps the most obvious of destinations for a young Turkish man, and he now spends much of his time, when not touring, between Montreal and Istanbul, both of which he regards as home.
His life, after his arrival in Canada, at that time speaking no English, took him on a serendipitous path. Initially he went to Saskatoon for only three weeks with his exhibition of photography ~ he already had a degree in photography and journalism from the University of Istanbul ~ and was spotted by a professor from the University of Saskatchewan who convinced him to study there for a degree in Fine Art. He then went on to Concordia University, Montreal, to study for his Masters under the tutelage of Guido Molinari, the installation artist and enfant terrible of Canadian Formalist painting.
During the 90s Mercan exhibited, in his real name of Arkin Ilicali, as a visual artist and as well as teaching at Concordia he continued DJ-ing , something he started doing as a student almost by accident to help pay the rent.
In conversation it's obvious that his knowledge and interest in the visual arts has never left him and as he talks he evokes vivid imagery and references to describe his philosophy and music. The visual still has real meaning for him; he creates light projections for many of his larger stage performances and the photographic images on his last album, Su, and the collage on his techno album, Fusion Monster, also released in 2004, are his work. He's modest about recent accolades, the nominations in 2003 and 2004 for two categories in the Radio 3 Awards for World Music and casually mentions in an aside that he played drums on the soundtrack of the Ridley Scott film, Kingdom of Heaven.
Without proselytizing, he wants to make it clear how important Sufism is in his life ~ first and foremost he is a Sufi, and he explains how the use of music, poetry and the dance of the dervishes are central to Sufi beliefs as a pathway to worship. Dervish means threshold and their meditational whirling dance is used as a means to pass through this transcendental doorway to bond with the divine.
The ascetic white woolen costume gives the order its name ~ Sufi meaning man of wool. He goes on to relate how the 13th century Sufi poet, Rumi, founder of the Mevlevi order in Turkey, developed the regimen of whirling as a devotional practice, inspired by the the steady rhythms of craftsmen in the goldsmith's quarter beating their precious metal into shapes. And this brings the conversation to another important and enduring memory of his childhood ~ his first sight of dervishes when they visited his town, whirling in their white robes; for a child they were fantastical beings, they astounded him ~ he asked 'are they aliens or angels?'.
Everything returns to Mercan's consummate passion for his faith, it is the absolute and uncompromising focus of his music ~ without his beliefs there is no music, it is this that drives and empowers his impressive creative energy as a composer, recording artist and performer. And this dynamic, spiritual energy isn't just about  Mercan Dede, he tells me he has nine names under which he works, because for him what he does isn't centered around personality or image, it's about the meaning of the music; in all his guises 'the message is the same'.
The name Mercan Dede came into being because he didn't want to put his real name, (which he was happy to use as producer) to his first album, made with the San Francisco based Golden Horn Productions. This was Sufi Dreams and he ended up responding to the needs of the record label, choosing the name  Mercan Dede meaning coral grandfather after a character, a 'really crazy man', in a book he was reading by the Turkish writer, Ihasan Oktay Anar.
He describes his nine names as the equivalent of the separate parts of a child's puzzle; after a bit of discussion we decide this is a jigsaw, the pieces with their enigmatic, individual characteristics that when fitted together make a recognizable and coherent picture. Using his hands descriptively, something he does throughout the interview, he also summons up the image of the Turkish riddle ~ 'what is one when you buy it in the bazaar but thousands when you get it home? A pomegranate.'
He has been impressively prolific, with five CDs as Mercan Dede since 1997, plus Fusion Monster in his DJ alter ego, Arkin Allen. Each album is conceived not only as collection of linear tracks but as an interwoven whole, circling back on itself and again reflecting the images of the jigsaw and the pomegranate; nor does he compromise on the length of the tracks. He composes using the concept of the Sufi musical tradition of maqams or modes, but doesn't regard this as confining or restrictive, for him it is infinitely fertile ground for his inspiration and creativity, mixing the orthodox with the underlying substrate of his techno skills into a seamless blend of traditional and and modern, east and west.
As we drink tea he likens the structure of his albums to a Turkish dinner, the courses exquisitely and delicately balanced, complimenting each other in a composition of tastes, textures, colors and presentation, building into a meal of celebration and satisfaction. And he is is a great believer in the power of the resonance of music to affect the emotions and to heal ~ there are maqams that relate to specific parts of the body and he gives me the name of the maqam for the digestive system, huzzam, as an example.
His first three albums as Mercan Dede are a trilogy, Sufi Dreams (1997), Journeys of a Dervish (1999) andSeyahatname (2001), charting the stages of a journey ~ dreaming of the journey, the journey itself and the diary of that journey. From the start, with that very first album, the uniqueness of the Mercan Dede sound and compositions were established, confident and timeless, there's a feel
of the ancient about them brought into existence by that moveable feast of distinguished musicians and collaborators he gathers to him for both recording and performance.
He reveals that Nar, 2002, is the first in a proposed tetralogy and as well as meaning pomegranate, it is the Persian for fire, but not, he explains, the fire of destruction, it is the fire of passion. This was followed in 2004 by Su and although for him the present is more important than the future, bringing his hands up to his head he tells me that the concepts of the two further albums are already there in his mind. Remarkably, Su, meaning water, was recorded entirely in his flat in Istanbul appropriately opposite the waters of the Bosphorus, 'everyone came there'; he has begun to find the recording studio 'too clinical'.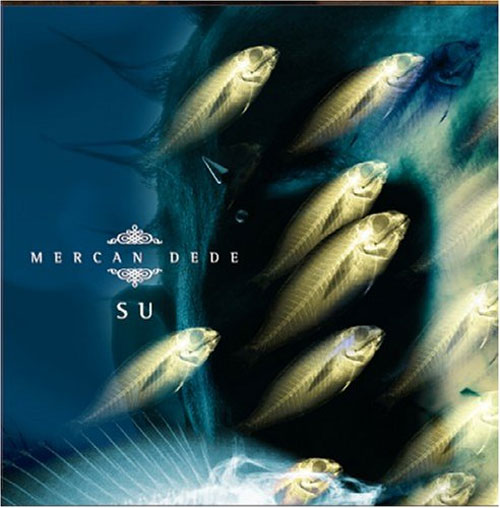 He's been DJ-ing for 16 years, but surprisingly, did not get round to releasing an album in his primary performing guise until 2004, the same year as Su. This is Fusion Monster, the title taken from a negative article about him in a Turkish newspaper; he astutely turns the criticism into a positive. Fusion Monster is the heavily dominating techno of Arkin Allen, more frenetic and compulsive than  Mercan Dede, but he is unmistakably there, at the same time familiar and unfamiliar in the circular amassing sound. He still enthusiastic about the DJ part of his life and he continues to perform to large audiences, most notably in July 2004 at the Concert of Colours Diversity Festival in Detroit on the main
stage to a crowd of half a million.
But whatever the size of the gig, from behind his decks he likes to watch the reactions of the audience, they provide him with a performance. On a superficial level, as either Mercan Dede or Arkin Allen, his music could be pigeonholed as dance, ambient, fusion, but there is a depth far beyond the decks and tracks of the DJ in him; there's an intelligence to the organization of the sound, an intensity, an involvement, a sense of place that isn't where you are physically, you're taken into another landscape, the sound moves you and gets inside you whether you are receptive to its spiritual dimension or not and in this it undeniably succeeds as Sufi music.
He toured England in June this year [2005], the first Turkish musician to do so, albeit restricted to the south; Salisbury, Bristol, Brighton, Kentish Town Forum in London, where I see his concert before he traveled on to the Wytchwood Festival, Cheltenham. I thought I knew what to expect from a Mercan Dede concert ~ a friend had emailed me from Seattle after he had performed there in May and was still in a state of euphoric shock, people had left the concert weeping for the joy of it ~ but nothing can prepare you for the experience, any description is going to be totally inadequate, even in Kentish Town the spectacle of it involves and engulfs you. A compact version of his ensemble was on stage, only six musicians including himself, brought together for this tour, but the sound still achieved the overwhelming power of his albums. Most eminent of these musicians was Goskel Baktagir.
Mercan was quick to point out that Goskel is more famous than he in Turkey; known as 'the father of the kanun' with at least 13 albums to his name, he is a highly respected performer and teacher of the instrument, and Mercan also tells me with shy pride that the kanun, or zither, is the forerunner of the piano.
It is Goskel's melodic and liquid sound that we hear on Nar and Su. Also on stage are three impressive young musicians: Aykut Sutoolu a 16 year old clarinet and trumpet player from a gypsy family and two young percussionists with the skills and virtuosity of much longer life times, Huseyin Ceylan, 19 years old and Memduh Akatay, a mere 15 years old.
At The Kentish Town Forum, the marvelous Sheera Mukerjeee, sitar player from Transglobal Underground is the support and also joins the ensemble on the stage for Ab-i Lå'l from Su on which she guests. Mercan is modest about his own musicianship, 'anyone can do it', and leaves the centre stage to the ensemble. He's at the side with his decks, giving us sampled tracks and the visceral percussive depth of the bass. He occasionally gestures to his musicians with precise and elegant
hand movements or picks up one of his neys adding momentarily a breathy, atmospheric susurrus to a piece. Of course his hair, blond and shaved into rows by a barber in Istanbul, tells you who he is ~ there is no mistaking him!
But most breathtaking of all is the Canadian, Mira Burke, a female dervish. The passion of her whirling is palpable; balletic, dynamic, almost frenzied at it's climax, not the slow, stately dance of the more familiar male dervish. As she whirls she gradually emerges from a brown coat and is in the purest of red costume, the color singing as the speed of the whirl builds up.
Returning to the stage later she's in the traditional white garments of the Sufi and spins again, giving the illusion of suspension, the lights dim and the hem of her skirt glows with the endless blur of a revolving ribbon of neon light.
There's no stage invasion at the Forum as there was at the Queen Elizabeth Hall when he was there in 2003~ we would have needed ladders ~ but an ecstatic and well pleased audience got the three encores they demanded before the lights came up and it was over.
Back stage I expected to see him slumped with exhaustion, but he was still buoyant and energetic, unfazed by 2 hours on stage, engaged in animated conversation with a packed dressing room. It was a real wrench to take my leave of  Mercan Dede, even more so when he paid me the generous and unbelievable compliment, 'You are now a member of the '.