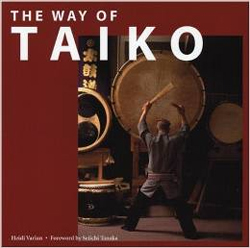 The Way of Taiko
By Heidi Varian (Stone Bridge Press, Berkeley, California. ISBN-13:978-1-880656-99-0, 2005)
Billed as the first book exploring Japanese spiritual drumming written in English, The Way of Taiko is a fascinating look into the sacred art of drumming in Japan. This slim volume packs a punch with gorgeous photographs, a brief history of taiko drumming, drums and accompanying instruments used in taiko, costumes, drumming techniques and glossary.
Author and taiko drummer, Heidi Varian provides a past, present and future look at taiko drumming, spotlighting some of taiko's grand masters and the building of a new community for future drummers. Varian places an emphasis on the spiritual approach required for practicing this living sacred art and it pays off in the careful attention to taiko's history and the inner self of a taiko drummer.
The real heart of this book for taiko devotees is the section on understanding sounds and movements in taiko drumming. This section of the book details all the instruments, pictures included, as well as the proper position and the vocalizations used during drumming. Varian also goes into detail about the earthly elements and their significance to the taiko drummer. The 'Learning to Drum' section takes the reader through a brief look into the careful positioning and practice of this ancient art, though she does warn the reader to seek out a professional instruction for serious players. For non-drummers, the book is fascinating and rich with some spectacular photographs and storytelling of the origins of the art.
The Way of Taiko is a great introduction to the art of Japanese drumming. What would make this book a stand out work would be an accompanying DVD or CD with drumming performances and instruction. With or without additional material, The Way of Taiko is a both a spiritual, mental and physical guide for the novice taiko drummer.
Purchase the book:
Author:
TJ Nelson
TJ Nelson is a regular CD reviewer and editor at World Music Central. She is also a fiction writer. Check out her latest book, Chasing Athena's Shadow.
Set in Pineboro, North Carolina, Chasing Athena's Shadow follows the adventures of Grace, an adult literacy teacher, as she seeks to solve a long forgotten family mystery. Her charmingly dysfunctional family is of little help in her quest. Along with her best friends, an attractive Mexican teacher and an amiable gay chef, Grace must find the one fading memory that holds the key to why Grace's great-grandmother, Athena, shot her husband on the courthouse steps in 1931.
Traversing the line between the Old South and New South, Grace will have to dig into the past to uncover Athena's true crime.