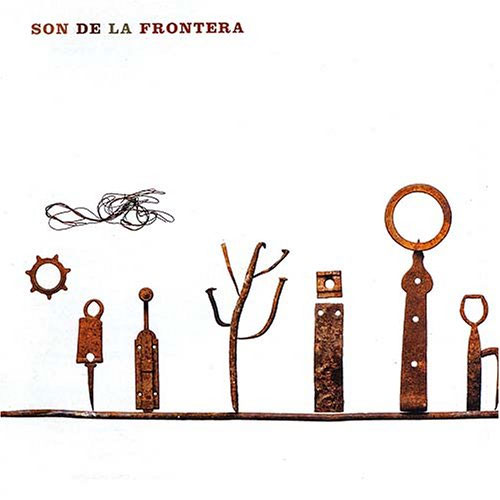 New York (New York), USA – Son de la Frontera (Sound of the Frontier), an unconventional Flamenco ensemble from southern Spain will bring its new concept of Flamenco to the North American public with its self-titled US debut, Son de la Frontera, on the World Village label.
Son de la Frontera have attracted attention with their ingenious mix of traditional Flamenco and Latin American sounds. American rock musician Jackson Browne seems impressed. He is quoted as saying: "The best new group I've heard recently, in any genre. A riveting tribute to the seminal flamenco master Diego del Gastor, this CD embraces the tradition of flamenco puro and succeeds in making it new."
From the dramatic opener, "Buleria Negra Del Gastor," to stirring soleas like "Recuerdo" and "Como El Agua Entre Las Piedras" to hybrid pieces like the Middle Eastern-flavored "Arabesco" and the smoky "Tangos de mi Novia," the members of Son de la Frontera convey unbridled flamenco passion while also carving a wholly unique path in their personal tribute to Spain's renowned guitar master and sonic innovator, Diego del Gastor.
In performing the music of maestro Gastor, the great guitarist and musical visionary from Morón de la Frontera (in the province of Sevilla), Son de la Frontera is committed to exploring the cross-pollination of Spanish-based traditions with sounds from four other continents, revealing flamenco's ancient Moorish and Middle Eastern heritage while also blending in rhythmic and melodic elements from Cuba, Argentina, Colombia and Venezuela. Throughout his illustrious career, Gastor (1908-1973) was known for his melding of Latin sounds with flamenco traditions. Son de la Frontera expands on his rich legacy by being the first flamenco group to prominently feature the Cuban tres (literally "three" in Spanish), a small, guitar-like instrument with three sets of double metal strings.
The tres was established in the classic sexteto format of the 1920s and later popularized by Arsenio Rodriguez, the blind tres virtuoso whose ensemble was the most influential band in Cuba during the 1940s and 1950s. Led by Raúl Rodríguez on the tres, Son de la Frontera also includes two of Gastor's descendants: Spanish guitar virtuoso Paco De Amparo and flamenco dancer Pepe Torres (both grand-nephews of the maestro). The group is rounded out by vocalist Moi De Moron and percussionist Manuel Flores, both of whom were born and raised in the flamenco hotbed of Gastor's beloved Moron de la Frontera. Together they create a scintillating chemistry on their United States debut.
The CD is full of stirring falsetas and precision unison lines between Rodriguez's steel-stringed tres and Amparo's nylon-stringed guitar, exhilarating flurries of synchronized handclaps (compas) from Flores and Moron, dramatic, pulse-quickening "taps" from dancer Torres and intensely passionate vocals from Moron. Gastor's compositions illuminate the Middle Eastern influences on flamenco in the spirited zambra "Arabesco" while his soleas "Como El Agua Entre Las Piedras" and "Recuerdo" are laden with emotion.
Elsewhere, Gastor's joyful rumba "Tangos de mi Novia" uncovers an Argentine connection to flamenco, – while the brisk interplay between Rodriguez's tres and Amparo's strummed guitar on that buoyant piece also adds the infectious spirit of a Cuban tumbao rhythm. The album's 9-minute centerpiece, "Cambiaron Los Tiempos," is a stunning showcase for each individual in the ensemble to stretch out instrumentally on a danceable seguiriya form.
The members of Son de la Frontera met in 1998 while playing together in the band supporting Rodriguez's mother, the renowned Spanish singer Martirio. As he explains, "All of the band's members loved the legacy of Diego del Gastor, and we began experimenting with his music, incorporating the Cuban tres that my mother brought back for me from Havana. It was a special souvenir from her appearance at the 90th birthday celebration for the great Cuban guitarist Compay Segundo [of the Buena Vista Social Club], For me, bringing the Cuban tres to flamenco was a natural extension of Gastor's creative vision."
Son de la Frontera will be performing live on February 3 ,2006, at Hothouse in Chicago (Illinois) and February 4, 2006, at Town Hall as part of the New York Flamenco Festival 2006 in New York City.
Author:
World Music Central News Department
World music news from the editors at World Music Central