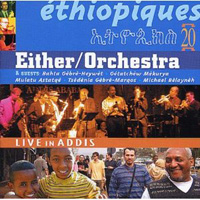 Ethiopiques 20
Either/Orchestra Live in Addis (Buda Musique 860121, 2005)
The impact of Buda Musique's Ethiopiques series cannot be overstated. Since the initial volumes appeared in the late '90s, chapter after chapter in the rich history of Ethiopian popular music has become more widely known to the world beyond, particularly the golden age prior to the fall of emperor Haile Selassie in the mid-'70s.
Because Ethiopia was never colonized to the extent that many African nations were, its music was influenced from far and wide. The soulful creativity of singers like Mahmoud Ahmed and Tlahoun Gessesse has come to light along with some very diverse instrumental music, handily doing away with the misconception that Ethiopia is nothing but a place of famine and internal strife. With that in mind, the 20th volume of the series can be seen as something of the Western world's response to the growing appreciation of this glorious music.
The Either/Orchestra, an adventurous 10-piece band based in Massachusetts, journeyed to the Ethiopian Music Festival in the capital city of Addis Ababa in January 2004 to perform some of the music that had long captivated saxophonist/bandleader Russ Gershon and his mates. The results, captured on this double disc set, are simply sumptuous.
Like many of the sounds in the Ethiopiques catalog, numerous elements are present- soul, jazz, funk, Afrobeat, traditional music, Arabic-tinged melodies and serpentine arrangements that run deeper than deep. It sounds as though the Ethiopian crowd wasn't initially sure what to make of these guys- the applause is tentative at first and the 15-minute opening number "Amlak abet abet" takes time to build. But build it does, with many a subtle twist and turn until band and audience are in a state of obvious mutual enjoyment.
A choppy version of that rare groove chestnut "Muziqawi Silt" follows, leading into further lengthy instrumentals that sound perfectly authentic while sporting enough originality in the solo-laden arrangements to avoid coming across as knockoffs.
We're treated to some enriching Ethiopian guest appearances along the way, including vocalists Bahta Gebre-Heywet, Michael Belayheh and Tsedenia Gebre-Marqos, saxophonist Getatchew Mekurya and percussionist Mulatu Astatqe, making this a truly thrilling cross-cultural event (the anecdotal liner notes would seem to back that up as well).
Treasure trove though it is, the Ethiopiques series gets a fresh twist with this excellent double draw of Ethiopian/American greatness.
Buy Either/Orchestra Live in Addis
Author:
Tom Orr
Tom Orr is a California-based writer whose talent and mental stability are of an equally questionable nature. His hobbies include ignoring trends, striking dramatic poses in front of his ever-tolerant wife and watching helplessly as his kids surpass him in all desirable traits.