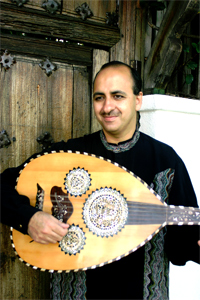 Arabesque Chicago is a monthly showcase of Arabic music held in the intimate performance space of the Raven Theatre's East Stage. The debut of Arabesque Chicago on Wednesday, December 14 at 8:00 p.m. features vocalist and 'ud player Naser Musa, accompanied by percussionist Souhail Kaspar.
Musa,
a Jordanian of Palestinian descent, is a composer and arranger as well as a musician. He has toured and recorded with major Arab musicians worldwide, and is an instructor at the Heartland Seminar on Arabic Music. Kaspar , a native of Lebanon, was trained at Nadi al-Fonun al-Arabia in Aleppo, Syria. He has performed with Fairuz, Farid al-Atrache, Sting, and other high-profile entertainers and has recorded with Ali Jihad Racy, Kadim al-Sahir, and the Kronos Quartet.
Musa and Kaspar collaborated on the CD Khaliji: Songs of Love and Passion from the Arabian Gulf.
The Raven Theatre, at Clark and Granville in Chicago's Edgewater neighborhood, produces critically-acclaimed dramatic works ranging from American classics to
contemporary plays.
Xauen Music of Chicago is dedicated to preserving the heritage of classical Arabic, Armenian, Turkish, and Sephardic music. Xauen Music produces concerts and tours; records and distributes CDs; publishes scores, magazines, and books; and conducts educational seminars.
Tickets ($12 general/$8 students and seniors) are available at: xauen-music.com. For information, call 847-830-8277.