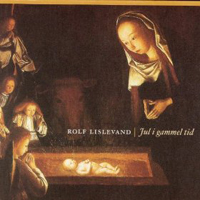 Rolf Lislevand
Jul I gammel tid (Christmas in the days of old) (Kirkelig Kulturverksted, 2005)
I received many Early Music Christmas recordings this year. Although I finished writing my holiday reviews, this wonderful gem, Christmas in days of old by Norwegian lute player and Early Music performer, Rolf Lislevand came my way. I'm more likely to celebrate the Winter Solstice than Christmas, but historical recordings do pique my curiosity and I enjoy traveling back to the Middle Ages.
This music comes from a time before the mad pace of today's holiday season and a time when the holidays represented the gathering of people and not the collecting of expensive gadgets. So you see, I find myself escaping into the images these historical recordings bring me.
The holiday recordings that I have heard over the past couple of weeks do more than preserve their various heritages. Listening to these CDs causes someone to slow down and become more reflective. Rolf Lislevand's Christmas in the days of old provides us with music for the hearth. The instrumental recording features lute, theobre and other instruments. He is accompanied by Giovanna Pessi on triple harp. The songs on the CD range from the 1300's to 1674. They hail from France, Italy, Switzerland, England, Spain and Germany and from a time when one didn't need to know the name of the composers. Although you will find names of composers listed with a few of the tracks, especially with familiar songs from England.
"Our familiar songs about the child in the manger, the shepherds in the fields and the wise man of the East often have roots going back more than 500 years in time, before Modernism, Romanticism, Classicism, yes, even before the Baroque era."
Even if it is not your normal routine to listen to Early Music recordings played on medieval instruments, give Rolf Lislevand's CD a listen. Although this music was composed before Baroque music, to untrained ears, (like mine), it does sound Baroque at times and anyone who has listened to classical guitar will also appreciate this warming blend of harp and lute. The best part is, the songs are
free of any commercialism or angle. They are songs that evoke pure and simple emotions. All that is needed from you, is to sit back, listen and let the music take you back to another place we can no longer fathom.
Please note: I will not be reviewing any more Christmas recordings this year. However, if you represent a group or label that has recorded ancient Winter Solstice music performed on Early Music instruments, please contact me.
Happy holidays to all.
Buy Jul I gammel tid (Christmas in the days of old)
Author:
PatriciaHerlevi
Patricia Herlevi is a former music journalist turned music researcher. She is especially interested in raising music consciousness. She is looking for an agent and publisher for her book Whole Music (Soul Food for the Mind Body Spirit). She founded and hosts the blog
The Whole Music Experience and has contributed to World Music Central since 2003.