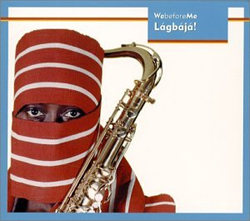 A different kind of a dance comes to life in Lágbájá's home 'motherlan'. A Different Kind of a Dance is a yearly concert celebrating conscious music in Nigeria. This year's edition is on the 17th of December at 6pm.
A Different Kind of a Dance brings to life a mix of indigenous, intellectual and
conscious music like never done before. Bringing together world class Nigerian
artists with messages and rhythm germane to our intra and inter personal requirement. Putting to life exhilarating performances powered by genuine passion for their various messages with the right attitude and atmosphere carefully created by us. A
Different Kind of a Dance redefines the concept of African music and brings event in Nigeria to the next level. The 'dance' in question ultimately is that dance that comes from within and is ultimately defined when experienced. the artists featured this year are: Fatai Rolling Dollars:
Unarguably the oldest musician in Nigeria, skilled talented and experienced. His
music brings about true nostalgic feelings of yesteryears and a fusion of modern
music. His performance is under defined by the word 'electrifying'. His music is
an experience in a class apart and a true testimony to the experience of
timeless practice.
Beautiful Nubia:
A true definition of African music: poetic, rhythmic and natural artiste. His
music is much more than the usual. He has performed in Zimbabwe, South Africa,
U.K, Canada and widely across North America. His hit album Jangbala Jugbu has
sold over 600,000 copies in his native country Nigeria.
Mr. Luvles & D PSound Xpres!:
Easily said but true is the fact that they are undoubtedly the biggest rock band
in Africa. They are truly a wonder to behold on stage. Having played to wild and
critical acclaim across the country and won over thousands to their sounds across the country, they have made rock music a household name in the Nigerian music scene.
Niyi Ige and the Olofas:
Talented musicians led by Niyi Ige. Niyi Ige is primarily a saxophonist; his music is laced with rhythm geared to make you move, and lyrics that spin your thought to the beauty of life. He recently signed a music publishing deal with a German publishing company.
Papa Tee:
His music has aroused interest in various quarters, some describe his music as homegrown jazz, others call it African rhythm and it falls under world music on the Internet. Versatile and poetic artiste; papa tee can only be defined when experienced. His Olodumare track won him a Kora award nomination for the most
promising act in Africa; his credits include producing King Sunny Ade, working with Nel Oliver and Dr. Alban. He has performed across Nigeria, South Africa and Sweden.
More information on this event can be obtained at portyer.com.