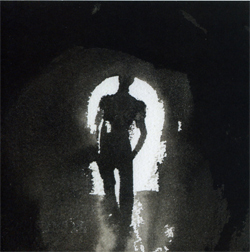 Have you turned into a parking space stalker at the mall? You know the ones who creep along at two miles-per-hour down a long aisle of cars behind a woman with three children who are running in three different directions, in the hopes of getting a parking spot, only to be thwarted at the last minute as the woman slips in between cars to the opposite aisle?
Perhaps you've survived the parking lot gauntlet and actually made it inside an overheated store to wander among the racks of rumpled, picked-through sweaters or last year's DVD releases along with packs of unruly teenagers, frazzled sales help and a wayward toddler with sticky fingers and a croupy cough who wants to touch you.Have you found yourself mulling over the right gifts for the right people while changing the lyrics to "I Saw Mommy Kissing Santa Claus" to "I saw Mommy pushing Santa Claus under Mack truck last night," and at the same time wishing there were some alternatives to the same old thing?
Well, that's where the first World Music Central Gift Giving Guide comes to the rescue. Whether you're a faithful visitor to our site or a newcomer, we're ready with some simple, sane, and sometimes out-of-the-ordinary, gift ideas for this season.
Let's start with some editor's picks. For weeks now, we've nagged our editor-in-chief and some of our regular writers to come up with the top ten (or eleven) picks for the year and here they are:
Dave Atkin, thePhatPlanet Ltd
1. Nitin Sawhney – Philtre
2. Yat-Kha – Re-covers
3. Amadou & Mariam with Manu Chao – Dimanche a Bamako
4. Emmanuel Jal & Abdel Gadir Salim – Ceasefire
5. Souad Massi – Mesk Elil (Honeysuckle)
6. Geraldo Pino & the Heartbeats – Heavy Heavy Heavy (re-issue)
7. Eliza Carthy & the Ratcatchers – Rough Music
8. Iarla O'Lionaird – Invisible Fields
9. Djelimady Tounkara – Solon kono
10. Various artists – Golden Afrique 2
11. Kiran Ahluwalia – Kiran Ahluwalia
Patty-Lynne Herlevi, Cranky Crow World Music
1. Earl Ray – Traditional Songs of the Salt River Pima, Canyon Records
2. Alex E. Smith & Cheever Toppah – Intonation, Canyon Records
3. Debashish Bhattacharya – Calcutta Slide-Guitar, Vol. 3, Riverboat Records/World Network
4. Joseph Fire Crow – Red Beads, Makoche
5. Baka Beyond – Rhythm Tree, March Hare Music
6. Badi Assad – Verde, Edge Music
7. Le Vent Du Nord – Les Amants Du Saint-Laurent, Borealis Records
8. Savina Yannatou – Sumiglia, ECM
9. Pedro Luis Ferrer – Rustico, Escondida
10. Kiran Ahluwalia – Kiran Ahluwalia, Triloka/Artemis Records
11. Ronu Majumdar – A Sacred Space, Sense World Music
Favorite Compilations:
1. The Rough Guide to the Music of the Andes: Bolivia
2. The Rough Guide to Astor Piazzolla
Angel Romero, Editor-in-chief – World Music Central:
1. Shooglenifty – Radical Mestizo (Compass Records 744092, 2005)
2. Anoushka Shankar – Rise (Angel Records/EMI, 2005)
3. Various Artists – Cuba le canta a Serrat (Discmedi-Blau, 2005)
4. Ali Farka Touré and Toumani Diabaté – In the Heart of the Moon (Nonesuch/World Circuit Records, 2005)
5. César López y Habana Ensemble – Todo Incluido (Latin World Productions/Universal Music Latino 851 720 001-2, 2005)
6. Mártires del Compás – No Papers /Sin Papeles (World Village, 2005)
7. Djoss Diabaté – Haklima (Goin' Native, 2005)
8. Celia Cruz – A Rough Guide to Celia Cruz (World Music Network RGNET 1150 CD, 2005)
9. Trans-Global Underground – Impossible Broadcasting (Europe: Mule Satellite Records MUL01, 2004 / US: Triloka Records TRI-CD-82054, 2005)
10. Oliver Mtukudzi – Nhava (Heads Up International HUCD 3102, 2005)
Perhaps you're looking for a gift that keeps on giving. How about the CD Putumayo Presents: New Orleans or Mississippi Blues. Putumayo World Music is donating the proceeds of both CDs to the relief efforts of Hurricane Katrina victims.
For that person who has everything, a donation made in their name to a charitable organization that needs our help is truly the gift that keeps on giving. Music For Change is an international organization based in Britain, whose mission is to promote cultural diversity worldwide through music. They do some great stuff for kids. There is also Free Muse who champions the cause of all censored artists around the world. Finally, there's Music Maker Relief Foundation. Music Maker is a relief organization for forgotten blues musicians who need food, shelter and medical care. Music Maker also has a fund for New Orleans musicians. Their Music Maker Treasure box is a three CD set boasting "an anthology of the greatest hidden purveyors of roots music in the south featuring blues from the early years of last century, electric blues, R&B, Indian music, old-time country, singer-song writer, folk, jazz and spoken poetry," and a great gift.
Thinking outside the box, how about a musical instrument? I know what you're thinking. You're thinking about a squeaky rendition of "Greensleeves" on a black, plastic recorder. Yeah, but how cool would "Greensleeves" sound on, say, an Irish tin whistle or a harmonica? You can get one from Amazon.com for less twenty bucks! You can even replace that old black recorder for less than $20. New or used, there are some great bargains out there. You can play along with your favorite CD or with your friends on a jaw harp, djembe drum, a bongos set, a kalimba or even used guitar or violin for not much money. Checking the classified sections or local music stores can save you some money on new and used musical instruments. So why not put some music back in your life and add a kazoo or pan flute on your Christmas wish list?
Don't forget to look ahead at the great music festivals or concerts coming up like globalFEST just around the corner in January in New York City. There's also the Barbados Jazz Festival 2006. January in Barbados – does it get any better than that? Ireland 's Téada is traveling with Cathie Ryan, Gráinne Hambly and Tommy Martin for an Irish Christmas in America during December. Dinner and a concert might just be the remedy for the Christmas curmudgeon on your list. But if you're planning a winter vacation, check out the local concerts before you book your tickets.
How about some dance classes? Check out your local dance studios for some salsa or tango classes. January can be a long, cold, bitter month, so why not spice it for you and your mate or maybe your lonely Aunt Lola. There's a wide range of classes out there from flamenco to belly dancing. Not only do you get to meet some new people, have something to do on a Thursday night, but it's also a good way to shake off the holiday pounds.
Now Christmas wouldn't be Christmas without children. Here are a few suggestions for the wee ones. Putumayo World Music had put out a great set called Latin Playground Activity Kit. It comes with a passport journal, a CD and bunch of cool activities for kids to learn about Central and South America. Not only can they cut and color while dancing to the "Mardi Gras Mambo," but they can learn something. The activity book is printed in both English and Spanish. Rounder Kids has put out Twice as Many Friends / El doble de amigos by Sol y Canto," a bilingual CD for kids. On Panamusic there's a Spanish song CD called Un Mundo, Muchas Voces.
There are loads of DVD concerts available and might be just the thing for getting the kids connected with their heritage or cultures around the world. Ladysmith Black Mambazo, with their unique sound and dances, has several DVD releases and would be lively enough for children and adults.
Don't forget that musical instruments or music lessons make great gifts for kids. Target has a lap harp, ukulele, Band in a Box set, kid's accordion, bongo drums and children's guitars, all for under $50. Learning to play an instrument will get them out from in front of the television and could help improve their math skills.
Salsa or flamenco classes might also be the answer for that shy teen in your family, but you should check with parents first. Other dance classes for children might be found at your local arts council, so be sure to take a look at their schedules. Often there are local world music dance troops that offer classes or tours that come along that would be fascinating and world-friendly for children. Don't be shy about calling up and asking for at least a peek for you and your children; a number of world music dance or music companies are eager to educate and open up their door to a new audience.
We came up with this guide to help you come up with a few alternatives to the standard set of slippers or the nose-hair trimmer. Please feel free to share any of your world music gift ideas with us for the countdown to Christmas and we'll pass them on to our worldwide community. Merry Christmas … Feliz Navidad… Shuvo Naba Barsha… Kung His Hsin Nien bing Chu Shen Tan… Glædelig Jul… Joyeux Noel…Nollaig chridheil agus Bliadhna mhath ùr!…Buone Feste Natalizie… Merry Keshmish… Wesolych Swiat Bozego Narodzenia… La Maunia Le Kilisimasi Ma Le Tausaga Fou… Sawadee Pee Mai… Cestitamo Bozic……
Author:
TJ Nelson
TJ Nelson is a regular CD reviewer and editor at World Music Central. She is also a fiction writer. Check out her latest book, Chasing Athena's Shadow.
Set in Pineboro, North Carolina, Chasing Athena's Shadow follows the adventures of Grace, an adult literacy teacher, as she seeks to solve a long forgotten family mystery. Her charmingly dysfunctional family is of little help in her quest. Along with her best friends, an attractive Mexican teacher and an amiable gay chef, Grace must find the one fading memory that holds the key to why Grace's great-grandmother, Athena, shot her husband on the courthouse steps in 1931.
Traversing the line between the Old South and New South, Grace will have to dig into the past to uncover Athena's true crime.