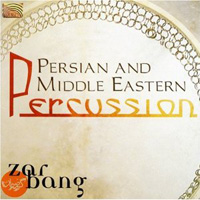 Zarbang
Persian and Middle Eastern Percussion (ARC Music EUCD 1969, 2005)
I first heard of the percussion-oriented group called Zarbang some months ago and became curious as to what they sounded like, so I was pleased when this CD came my way. The title clearly states what the music is mainly comprised of, though it hardly begins to describe the richness that this feast of percussion unleashes.
On "Zarbi-e-Raast," the 16-minute piece that opens the album, torrential bursts of sound from the tombak (goblet drum), daf (frame drum) and other skin-covered wonders are linked by the melodic sizzle of santur (Iranian dulcimer) as they blaze their way toward a dizzying climax.
"Rumba de Cajon," centered around the wooden box drum, brilliantly shows the lasting effect that
Moorish rhythms have had on the Iberian peninsula while "Circle in Seven" features marvelously textured percussion liberally drenched in ney anbaan (Persian bag pipes).
More santur graces the swaying onslaught of "Dream Song," in which congas share space with their Arabic drum relatives. The final two pieces, "Cycle of Fire" and "Cycling Feast" crackle and rumble to create a mystical mood reflective of the Sufi spirituality that inspires many of the rhythms and overall feel of the album, which is pure heaven for percussionists, percussion lovers and Middle Eastern music fans.
By the way, this is a live recording, which shows that these master players aren't faking a thing or simply cutting and pasting in a studio. What they're doing is creating worlds of drumming bliss that are structured but loose, primal but refined. Now that my curiosity regarding Zarbang's sound has been satisfied, I'm a much happier person. Get this disc and you will be too.
Buy Persian and Middle Eastern Percussion
Author:
Tom Orr
Tom Orr is a California-based writer whose talent and mental stability are of an equally questionable nature. His hobbies include ignoring trends, striking dramatic poses in front of his ever-tolerant wife and watching helplessly as his kids surpass him in all desirable traits.