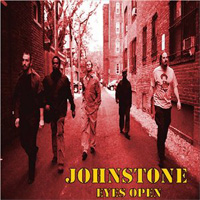 JohnStone Eyes Open (JohnStone Reggae LLC JSEO, 2005)
JohnStone Eyes Open Dub (JohnStone Reggae LLC, 2005)
The already-strong USA reggae scene gets another big boost here. Washington, DC-based JohnStone play tight, uplifting modern roots that's rich with pop hooks and anthemic lyrics that carry the social conscience which has recently found itself at the forefront of reggae again.
This biracial band has got their chops down, too. Live bass and drums form a solid riddim backbone that's expertly topped by stinging keyboard and guitar riffs and seasoned with dashes of percussion and saxophone. Guitarist Andre N. White and drummer Alfred Adams handle the bulk of the lead vocals and songwriting, displaying an assured sense of both on songs that stress basic goodness ("Awakening," "Never Ever"), embrace the spirit ("Shine") and seek unity in the groove ("Celebration").
The tracks are finely crafted, full of rich instrumental layering and vocal harmony gracing the reggae foundation.
Once you've let this disc grow on you (and it will), check out the companion CD Eyes Open Dub, on which JohnStone further reveal the intricacies of their brand of reggae via dub versions of each track on Eyes Open.
The songs are deconstructed to reveal their inner workings, taking the soulful sound to another level with sparse echoey effects and passages that enhance just how well the players get their licks in. JohnStone are among the best American reggae currently out there, and that's saying a lot.
buy Eyes Open and Eyes Open Dub
Author:
Tom Orr
Tom Orr is a California-based writer whose talent and mental stability are of an equally questionable nature. His hobbies include ignoring trends, striking dramatic poses in front of his ever-tolerant wife and watching helplessly as his kids surpass him in all desirable traits.