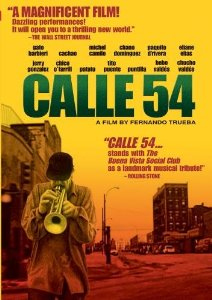 Calle 54
Directed by Fernando Trueba
Miramax Films (2000)
I'm not sure if Calle 54 is an actual street, but the music documentary, Calle 54 directed by Spanish filmmaker Fernando Trueba (Belle Epoque), is one of those streets that demands frequent visits. A
friend of the director turned him onto the music of jazz saxophonist Paquito D'Rivera back in the 1980's and in 1995, the director met Paquito during a shoot of the final scene of the film, Two Much. Trueba cited, "It was the highlight of my film career.
A magical night. I was filming the miracle of music. That's when I began dreaming of a whole film about this most exciting form of music."–Latin jazz. Calle 54 not only features the crème of the crop and a vast array of musicians, but Trueba captured one of Tito Puente's last performances. It's also been several years since the release of Calle 54 so some of the older musicians might have passed on by this time.
While Calle 54 is not a feature film, the director narrates his involvement with the film and the artists' biographies in voice-over. And each of the 12 musical performances offer dramatic arcs, interesting characters (the
soloing musicians) and intriguing stories of the performers, many of which are the sons or daughter of famous pianists or saxophonists. The lineup includes, saxophonist Paquito D'Rivera , Brazilian pianist Eliane Elias, Spanish pianist Chano Domínguez, trumpeter/conga player Jerry Gonzalez with the Fort Apache Band, pianist/composer Michel Camilo, saxophonist Gato Barieri, timbalero/vibraphonist
Tito Puente, conductor Chico O'Farrell, pianist Bebo Valdes, bassist Cachao, pianist Chucho Valdés and rumba drummer/vocalist Puntilla & Nueva Generacion. All of these artists are also featured on a soundtrack CD put out by Blue Note Records so if
you don't like to sit in front of a TV screen, you can still enjoy the artists' rich performances.
It's hard to pick only a handful of performances to review since the entire film features a collection of magical moments. Paquito D'Rivera starts off the film. Son of a classical saxophonist and a child prodigy, his big band includes everything from bandoneon, vibraphone, charango, various percussion, piano, horns and a combination saxophone clarinet performed by Paquito of course. As the camera lenses hopscotch around the stage zooming in on close-ups of solos and virtuoso performances, we hear everything from tango, rumba and are swept away on sweet lyrical passages and mind you, this all happens within the time frame of a single song. The musicians are all in top musical form and the composition like several that appear later in the documentary, is full of surprises, the work of an inspired composer.
After this power performance, we are whisked over to another stage where the Brazilian pianist Eliane Elias performs, Samba Triste with a trio (double bass and kit drums). Born in Sao Paulo, Brazil and the daughter of a pianist, Eliane started playing piano as a teenager and she trained with Vinicius de Moraes until his death. In this documentary she is a barefoot blonde wild child dressed in an elegant black dress. When she plays piano, her whole body sways to her syncopated rhythms–she closes her eyes, throws her head back in ecstasy and performs with total abandonment. Her performance is so mesmerizing that I wished I could have been her for the duration of her performance and feel that musical bliss. After she plays her final note, the camera zooms into her face and she looks as if she just touched God.
Other highlights include a stop in Cadiz, Spain, where pianist Chano Domínguez marries Latin jazz with flamenco. Trueba cites, "Chano Domínguez was the first 'bilingual' musician of this form. His music produced a miracle, a handshake between Monk (Thelonius) and Camarón (de la Isla)." And sure enough, we are shown a performance with jazz double bass (played like a flamenco guitar), kit drum along with flamenco vocals, claps and a shaggy dancer in loafers that hops and struts on the stage like a very proud rooster. In another performance, Argentine saxophonist Gato Barbieri resembles a Native American elder wearing goggles. He punctuates his theme music with "hey, hey, hey," further adding to the effect.
Two Much film composer and pianist Michel Camilo and his trio deliver an inspired performance in which the pianist's hands rip at the keys of a grand piano.
The late Tito Puente and his hot band of musicians, especially the flautist, show younger musicians why he's the King of Timbales. Chico O'Farrell, a Cuban conductor of Irish stock, and his orchestra consisting of a large horn section, percussion, bass and piano appear in nostalgic black and white. Again, we hear lyrical
passages alternating with passionate Afro-Latin frenzied sections. A slow piano part at the end of the song feels like rain dropping onto soggy pavement, and the dialogue between congas and bongo and some fine horn playing are also worth a mention.
Finally, father and son, Bebo andChucho Valdés appear several times in the duration of the film. Bebo performs a duet with bassist Cachao, Chucho performs an unforgettable solo work and then father and son come together to end the film with a piano dialogue. By this time, most people viewing the film will
be breathless having watched all of these musical athletes. The music they perform is complicated and demands focus, but these musicians play as though in a trance. While the Buena Vista Social Club musicians were yelling for someone to put out the fire, the
Calle 54 musicians are exorcising their inner demons through virtuosic performances. In fact, a good double bill would be Buena Vista Social Club and Calle 54. That would be my idea of heaven and it doesn't cost anything, but your attention. It's time to revisit Calle 54. If you haven't been there yet, then let this review be your passport.
Tracks:
1. Panamerica-Paquito D'Rivera
2. Samba Triste-Eliane Elias
3. Oye Como Viene-Chano Domiguez
4. Earth Dance-Jerry Gonzalez & The Fort Apache Band
5. From Within-Michel Camilo
6. Introduccion/Llamento y Tango/Bolivia-Gato Barbieri
7. New Arrival-Tito Puente
8. Caridad Amaro-Chucho Valdes
9. Afro-Cuban Jazz Suite-Chico O'Farrell
10. Lagrimas Negras–Bebo Valdes & Cachao (Israel Lopez)
11. Compa Galletano–Puntilla & Nueva Generacion
12. La Comparsa–Bebo Valdes & Chucho Valdes