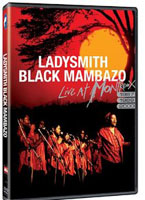 Ladysmith Black Mambazo
Live at Montreux (Eagle Rock Entertainment, 2005)
Audiences all the world over have been amazed and awestruck by South Africa's treasured a cappella singing group Ladysmith Black Mambazo since they were launch onto the international scene in 1987 on Paul Simon's Graceland album. Formed in the mid-1970s and led by the charismatic Joseph Shabbala, Ladysmith Black Mambazo has since recorded over thirty albums and has two Grammy awards. They've traveled the globe and shared their unique blend of Zulu, religious and popular song. Eagle Rock Entertainment has now released a DVD collection of live performances by Ladysmith Black Mambazo at the Montreux Jazz Festival.
The DVD features performances spanning thirteen years, beginning with the group's 2000 performance and working backwards to the 1989 and 1987 performances. The opening performance of "Wangibambezela" is a testament to the group's captivating sound and stage presence. Following "Wangibambezela" is "Hello My Baby" with some clever gestures and dance the group has become famous for.
One of my favorite performances from the 2000 concert is "Wena Othanda Abantu," a blend of traditional Zulu songs. The performance is part lullaby and part courtship dance with the background vocals sustaining a constant rhythm as individual members take their turns at traditional Zulu dance and Township jive. While the performance may at times seem to get carried away, it's obvious the spiritual nature of the song combined with the dance speak to the organic, almost hypnotic, nature of the Zulu spirit.
Also from the 2000 performance is a soulful version of "Amazing Grace." Raised in the American South, I've heard about every version of "Amazing Grace," and yet this version shines with intricate harmonies by the background singers and the gentle slide into "Nearer My God To Thee."

The DVD also boasts 1989 performances of "Homeless," the song that made the group famous on Paul Simon's CD and South Africa's anthem song, "Nkosi Sikelela," which shouldn't be missed.
Watching the 1987 performance of "Winhle Lentombi" one really grasps the evolution of this group and understands their ability to captivate an audience with their gentle gestures and wave upon wave of powerful harmonies. With Joseph Shabbala's leading vocals and the constant tapestry of back up vocals, Ladysmith Black Mambazo becomes a spiritual force, a kind of collective human voice that speaks to audiences everywhere.
Now I'm not exactly sure what the thinking was in sequencing the performances from 2000 back to 1987, since I would have preferred to see them in order as a testament to evolution of the group. Eagle Rock Entertainment does include some bonus performances of "Homeless," "Nomathemba," "Hello My Baby" and yet another version of "Homeless."
Overall the camera work and editing is a fairly pedestrian job with the limitations of live performance at Montreux, and the quality of video from 1987 isn't the greatest, but that shouldn't discourage fans. Ladysmith Black Mambazo is delightful in any venue. The performances are such that it might worth moving the coffee table out of the way to try a couple of Zulu high kicks and to 'zoop' and sing along with Joseph and the boys.
Buy Live at Montreux and the other DVDs: Ladysmith Black Mambazo – On Tip Toe, Ladysmith Black Mambazo – In Harmony: Live at the Royal Albert Hal, and the documentary Rhythm of Resistance – Black South African Music].
Other Ladysmith Black Mambazo stories:
New Ladysmith Black Mambazo Album and US Tour in 2006
Ladysmith Black Mambazo Presents a New CD and North American Tour
Ben Shabalala of Ladysmith Black Mambazo Killed in Durban
Ladysmith Black Mambazo presents New Album and US Tour
Recordings available:
Author:
TJ Nelson
TJ Nelson is a regular CD reviewer and editor at World Music Central. She is also a fiction writer. Check out her latest book, Chasing Athena's Shadow.
Set in Pineboro, North Carolina, Chasing Athena's Shadow follows the adventures of Grace, an adult literacy teacher, as she seeks to solve a long forgotten family mystery. Her charmingly dysfunctional family is of little help in her quest. Along with her best friends, an attractive Mexican teacher and an amiable gay chef, Grace must find the one fading memory that holds the key to why Grace's great-grandmother, Athena, shot her husband on the courthouse steps in 1931.
Traversing the line between the Old South and New South, Grace will have to dig into the past to uncover Athena's true crime.