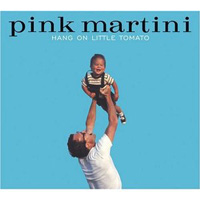 Pink Martini
Hang on Little Tomato (Heinz Records HNZOO2, 2004)
You could call them a globally-influenced pop band, a world music ensemble with a taste for mild kitsch or the soundtrack for a romantic spy movie set in Europe, Latin America and the Far East. Or you could just throw in the towel and surrender yourself to the charms of Pink Martini, charms that are not merely
seductive but satisfying from a strictly musical standpoint as well.
Every track on the Portland-based group's second album is like a category unto itself, so it's best to discuss the joys of this disc in very general terms. If their name suggests a certain lay-back-and-unwind vibe, the music created by Pink Martini does indeed have an outwardly relaxed quality that also possesses a certain intensity here and there.
Because they're a big band (15 pieces strong plus a guest orchestra for the heck of it) with ample horns, strings and percussion, they can lay it on full strength or break things down to a few intimate components. And so it is that this band has a flair for suave Latin sizzle ("Let's Never Stop Falling in
Love"), surreal romantic yearning ("The Gardens of Sampson and Beasley"), smoky cabaret ("Autrefois"), Croatian shadings ("U Plava Zoru"), Japanese melodrama ("Kikuchiyo to Moshimasu") and many a further combination of jazz, classical and vintage chill with whatever else works. And boy, does it work.
You'll marvel at Pink Martini's versatility and creative spark as you savor each song on this sassy, serious and totally absorbing release.
Author:
Tom Orr
Tom Orr is a California-based writer whose talent and mental stability are of an equally questionable nature. His hobbies include ignoring trends, striking dramatic poses in front of his ever-tolerant wife and watching helplessly as his kids surpass him in all desirable traits.