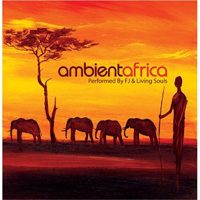 FJ & Living Souls
Ambient Africa (Eagle Records ER20079-2, 2005)
In 2003, Mike Howell and Brian Adams, both of Eagle Records, got the bright idea of turning inside out part of the archives of South African Broadcasting Corporation" apartheid-era recording collection to capture an entirely new audience. They sought out Cameroonian musician and record producer FJ, who in turn, snagged some fabulous Paris-based African musicians. Their offering is titled Ambient Africa. Unfortunately for the weak and the faint-hearted, there's nothing mild mannered about Ambient Africa. It's a hybrid of traditional African musical rhythm and song laced with pop, funk and nature sounds.
FJ and Living Souls have stretched and reshaped the compositions with layers of their own vocals, additional drum tracks, bass and keyboards to create something new from something old without diminishing the power of the original material.
Ambient Africa opens with "Bazoyidela" featuring White Mambazo, brothers Sibongiseni and Thamsanqa, who just happen to be the sons of Joseph Shabalala, the founder of Ladysmith Black Mambazo. This is a soulful piece in the tradition of the South African male choir. Out from behind the sounds of a thunder storm, the gentle vocal harmonies emerge before the piece turns positively joyful with lilting rhythms that are indicative of the Zulu region of South Africa.
"Sawgano," featuring Rothama Band, takes the traditional guitar rhythms of eastern South Africa and mixes them with some interesting vocal treatments and a driving rhythm. The keyboards give the piece a free-wheeling funk sound.
"Bomme Diediestang" with a driving background beat is worthy of discos everywhere. But don't let that scare you. It's a fun piece featuring Attaza, with some slick back vocals. Originally a traditional wedding and courtship song, "Bomme Diediestang" has been transformed into something even a jaded mallrat could love.

"Kaba Ngondo" and "Ama Sweet Sixteen" are another couple of funky numbers. The bright South African flute and tabla loop on "Ngikhalela" is an interesting hybrid of mixed African and Indian rhythms. Saving the best for last, "Savumenlana" features Durban Sings of the Nguni Choral tradition. It's possessed of that great choral tradition, vocal calls and easy rhythms that speaks not only of the people, but of the land and people of Africa.
Ambient Africa pulls and stretches the boundaries of African, world and popular music, making it sing for a whole new audience.
Buy Ambient Africa.
Author:
TJ Nelson
TJ Nelson is a regular CD reviewer and editor at World Music Central. She is also a fiction writer. Check out her latest book, Chasing Athena's Shadow.
Set in Pineboro, North Carolina, Chasing Athena's Shadow follows the adventures of Grace, an adult literacy teacher, as she seeks to solve a long forgotten family mystery. Her charmingly dysfunctional family is of little help in her quest. Along with her best friends, an attractive Mexican teacher and an amiable gay chef, Grace must find the one fading memory that holds the key to why Grace's great-grandmother, Athena, shot her husband on the courthouse steps in 1931.
Traversing the line between the Old South and New South, Grace will have to dig into the past to uncover Athena's true crime.