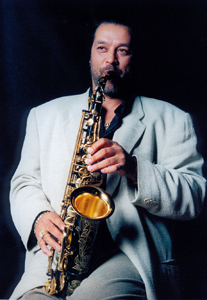 New York City (New York), USA – The schedule of performances of the New York Gypsy Festival is now available. Aiming to offer a broad perspective on various cultures and musical genres in a city that's considered at the crossroads of many cultures, the New York Gypsy Festival is presenting groups from the burgeoning gypsy music scene collectively for the first time.
Taking place October 29 through November 6, 2005 at The Roxy, Symphony Space and various downtown clubs in New York City, the festival will highlight local and international talent of gypsy (Romani) music. The highlight is the show on November 6th at The Roxy featuring New York City's very own, Gogol Bordello, a gypsy punk rock band with a wild energy. Also on the bill that night is Husnu Senlendirici (founder of the gypsy-funk band Laco Tayfa) who will fly in from Turkey for an exclusive jam session of The Clarinet All-stars featuring Senlendirici, Lefteri Bournias (Greece) and Ismail Lumanovski (Macedonia). Additionally, The Hungry March Band, a 20+ piece marching band, the 12-piece powerhouse brass band Zlatne Uste, DJs and gypsy dancers will round off an 8-hour marathon.
The festival also includes appearances by Bulgarian masters Ivo Papasov & Yuri Yunakov and Russian ska band Leningrad (produced by World Music Institute and Metpo.com, respectively). Dancing is an important aspect of the Romani
folklore and the festival aims to highlight that aspect with dance performances by ethnic dancers.
Schedule Of Performances
Sat, Oct 29th 8pm, $26
Ivo Papasov & Yuri Yunakov At Symphony Space (Produced by World Music Institute)
Sun, Oct 30th 7pm $40-$50
Leningrad, Leyla, Slavic Soul Party, Via Romen Dancers, Sine and Darshan, at The
Roxy, (Produced by Metpo.com)
Maia Meyhane and Mehanata Present
Mon, Oct 31st
Gypsy Halloween with Zagnut Orkestar (Balkan Gypsy Music) at Maia Meyhane with DJ Pepe @10pm $10
Gypsy Halloween with Leningrad at Mehanata with Dj Joro Boro @10pm $10
Tue, Nov 1st
Madjuana @ 9.30 at Maia Meyhane $5
Wed, Nov 2nd
Via Romen (Russian Gypsy Music) at Maia Meyhane with Russian Gypsy Dancers @10pm
$10
Ritam Plus (Mecadonian) at Mehanata with DJ Joro Boro @10pm $10Thurs,
Nov 3rd
Romashka (Balkan, Russian and Romen Gypsy Music) at Maia Meyhane Dj PePe @10pm
$10
Kinos Hronos (Greek Gypsy Music) at Mehanata & Dj Pedro @10pm $10
Sir Bato the Yugo's Gypsy Extravaganza (Sirbian Gypsy Music) at nublu @10pm $10
Fri, Nov 4th
Husnu Senlendirici with Maia Group at Maia Meyhane (Turkish Gypsy Music) at10pm
$15
Dolomites and Air Guitar Magazine (Gypsy Punk) at Mehanata & DJ Joro Boro @10pm
$15
Luminescent Orchestrii (Gypsy Punk)at nublu @10pm $15
Sat, Nov 5th
Nickodemus & The Endangered Species Band Live at Maia & Nickodemus spins @10pm
$15
Zagnut Orkestar (Balkan Gypsy Music) at Mehanata & DJ Joro Boro @10pm $15
Wonderland feat. H.Senlendirici & Ilhan Ersahin (Gypsy Electronic Turkish) at nublu @10pm $15
Sun, Nov 6th
Gogol Bordello, The Clariner All-stars feat Husnu Senlendirici, Ismail Lumanovski and special guests
with Maia Group, Hungry March Band, Zlatne Uste,
DJ Joro Boro and Pepe
Dancer Special Guest Dancer Elena Lentini, Layla Isis (Oriental), Sol (Flamenco)
Sine (Gypsy)
at The ROXY @7pm – 2am Adv. $35 Door $40
Venue addresses:
Maia Meyhane, 98 Ave B b/w 6th & 7th St (212-358-1166)
Mehanata, 416 Broadway at Canal St (212-625-0981)
Nublu, 62 Ave C b/w 5th & 6th St (212-979-9925)
The Roxy, 515 W 18th St. at 10th Ave. NYC
The New York Gypsy Festival is produced by two seasoned event production & nightlife patrons: Serdar Ilhan, who put together the hugely successful Jazz Made In Turkey Festival at Lincoln Center in 2004 and co-owns Maia Meyhane, and Alex Dimitrov, who built an underground phenomena with Mehanata, The Bulgarian Bar.
Says Ilhan, "New York's cultural diversity makes sense to put together this festival here. We are trying to open the door to world music and more specifically gypsy (Roma) music in the US by an accessible festival."
Author:
World Music Central News Department
World music news from the editors at World Music Central