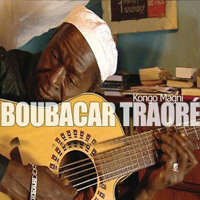 Boubacar Traore
Kongo Magni (World Village 468051, 2005)
Boubacar "Kar Kar" Traoré was a musical star in Mali by the time that country became independent in the early '60s, his song "Mali Twist" showing a new spirit of optimism. Still, after his early success he walked away from the music scene, instead opting for the (likely more secure) business of farming and raising a family. Upon his return to performing in 1988, there was no shortage of people who assumed he'd died. But Kar Kar was very much alive, as his undiminished skills showed. It wasn't long after his initial return, though, that the untimely death of his wife (a few of his children had also died young during his years out of the limelight) prompted Kar Kar to disappear again.
Nowadays it seems he's back to stay, and while the tinge of sadness that permeates his recent music is understandable, he sounds like someone determined to fight back the demons of adversity. Kongo Magni is an album of raw beauty, with Traoré's wearily expressive vocals and cautiously nimble acoustic guitar
picking reminding us that West Africa is the true birthplace of the blues. The addition of some purring harmonica here and there reinforces that notion, even as the rustic percussion, ngoni lute and balafon keep Africa firmly in focus. At times Kar Kar's songs carry the same trance-like feel as fellow Malian Ali Farka Toure, but he avoids sounding formulaic through such tunes as "Kanou," where an accordion brings on a bounce similar to that of Reunion Island artist Rene Lacaille, and the chugging delta punch of "Horonia."
Despite his own setbacks, Traoré remains attuned to the needs of his country and the world, cautioning against war and jealousy and praising honesty and unity in his lyrics. So amid the sadness are ample sparks of hope, which this quietly powerful album brings forth with heartfelt grace.
Recordings available:
Author:
Tom Orr
Tom Orr is a California-based writer whose talent and mental stability are of an equally questionable nature. His hobbies include ignoring trends, striking dramatic poses in front of his ever-tolerant wife and watching helplessly as his kids surpass him in all desirable traits.