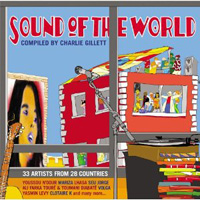 Bloomington (Indiana), USA- Every year, BBC radio DJ Charlie
Gillett puts together a two-CD compilation of some of the world music
highlights of the year. The new album—Sound
of the World on Wrasse Records—takes its title from Gillett's
weekly radio show on BBC Radio London. Though many of the tracks and artists
featured on the CD are rare or unknown, Gillett has tested them all out on the
airwaves; listener calls being the first criteria for inclusion on the annual
collection. For Gillett, the annual CD becomes a summary of the finest recordings from the
year, but for North American ears it is a preview of what is to come. Europe
tends to get word of global music recordings and touring acts before North
America.
About half of the featured artists—from Mali's
Issa
Bagayogo to Portugal's
Mariza,
from Croatia's Darko Rundek to Mauritania's

Malouma —were once on Gillett's radio show, either as performers or as part
of his regular ritual known as Radio Ping Pong. "This reflects both how
personal the compilation is, and confirms that these artists are making their
own connections by touring," says Gillett. "But for each artist I have
met, there's another that I would like to meet. I am hoping that some may be
discovered through their inclusion here, and subsequently come on tour;
Bulgaria's Sissy Atanassova, for instance, and Ana Salazar, from Spain."
In his musical version of table tennis, Gillett spars with his guests by trading
turns at the turntable, turning the tables on the traditional interview format.
Host and guest take turns playing songs, discovering unexpected parallels and
surprising juxtapositions.
Listening to

Sound of the World has a similar effect: "As each track starts,
you can't immediately guess what will happen next," Gillett says. "Contributing
to that sense of unpredictability are the arrangements—the way the instruments
and voices relate to each other, enabling the singers to jump the language fence
that so often forms an invisible barrier to music not sung in English. Compared
to musicians to an audience that speaks the same language, the artists here face
a bigger challenge, needing to beguile us with irresistible and unforgettable
melodies, and to present them in arresting frameworks."
The album has its share of world music's stars of the past year: Senegal's

Youssou N'Dour, whose album

Egypt met much critical acclaim and re-invented his career with
strengthened musical ties to the Arab music world;

Amadou et Mariam, the "blind couple of from Mali," who springboarded into
the international spotlight with an album produced by Manu Chao; Brazil's
Seu
Jorge, who reached new audiences with his David Bowie cover songs in the Wes
Anderson's

The Life Aquatic with Steve Zissou and his currently charting
solo album

Cru (also on Wrasse Records); Portugal's shooting-star fadista
Mariza;
and, Zimbabwe's allegorist

Oliver Mtukudzi.
Lesser-known discoveries include Lebanese rapper Clotaire K; the electronically
remixed, spoon-accompanied Gypsy band

Shukar Collective; Japan's ten baritone saxophones known as Tokyo-chutie-iki;
the modern throat-singer Okna Tsahan Zam, from the Russian Republic of Kalmykia,
and of Mongolian descent; and Laye Sowe, whose Senegalese vocals are gently
offset by bluesy British collaborators.
Buy

Sound of the World.
Author:
World Music Central News Department
World music news from the editors at World Music Central