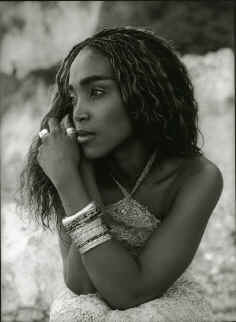 New York City (New York), USA – New York's most venerable world music venue, SOB's (Sounds Of Brazil), 200 Varick Street @ W. Houston, (212)243-4940, will host the First Haitian Jazz Festival on October 9, 2005. The roster will include well-known performers like Joel Widmaier & Richard Barbot, Boulo Valcourt, Eddy Prophete, Buyu Amboise & The Blues & Red Band, Reginald Policard, Mozayik, Beethova Obas, Emeline Michel> and many invited guests. Doors will open at 6:00 pm, the show commences at 8:00 pm. Admission is $30 in advance or $35 at the door.Over the years, Haiti has been home to many great jazz players but they were often overshadowed by the overwhelming popularity of folklore-based rasin (roots) music and especially, konpa, a lilting, graceful yet infectiously rhythmic dance groove. But a small, diehard minority of enthusiasts kept jazz alive and it gradually came to influence the more dominant local styles.
As in the United States, Haitian jazz began with drumming and vocal styles carried into the Caribbean by slave laborers. These were mixed with French court dances which evolved into the cinquillo, a five-note pattern common to Haiti, the Dominican Republic, Cuba and Trinidad. There was considerable traveling between Haiti and New Orleans and seminal musical strands like the blues and
ragtime gathered adherents but the give-and-take was periodically severed by disruptive social and political epochs. Swing made landfall during the American occupation (1915-1934), when Haiti rivaled Cuba as a vacation destination for the wealthy and the island produced several great hotel big bands.
Haitian workers who had gone to work in the newly independent nation of Zaire (now Congo) in the early 60s had brought back examples of seductive soukous guitar licks and New York bebop gained ground in the seventies, when another tourism boom attracted famous musicians from everywhere. Meanwhile, Haitian musicians had continued to trade innovations with colleagues from other nearby islands, especially Martinique, Puerto Rico and Cuba. All of these elements have been burnished and refined into a specifically Haitian brand of jazz that could never have existed anywhere else, a strong, vivid and beautiful voice rising amid what
has become a worldwide chorale.
Author:
World Music Central News Department
World music news from the editors at World Music Central