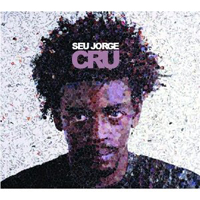 Seu Jorge
Cru (Wrasse Records WRASS 160, 2005)
Seu Jorge has been featured in a couple of movies. One was the Brazilian favela (slum) drama City of God, which was reflective of his own hardscrabble beginnings as a Rio street kid. The other was the offbeat American film The Life Aquatic with Steve Zissou, in which he added atmosphere as a seafaring troubadour singing bossa nova versions of David Bowie songs. I haven't seen either one, so I'll just go with what I know: Jorge's new album Cru ("Raw").
Musically, it's not exactly groundbreaking- samba is the dominant feel, with acoustic guitar and percussion as the favored instruments. But Jorge is quite capable of taking a genre that can be merely exotic and make it anything but. He growls and shrieks his way in delightfully macabre fashion through a version of Serge Gainsbourg's "Chatterton," and gives the old Leiber/Stoller composition "Don't" an ominous tenderness that's quite effective. And with characteristic Brazilian grace he also sweetens original compositions like "Tive Razao" and "Sao Gonca" with the same wispy lilt you might hear coming fromGilberto Gil or the sparse earnestness of Caetano Veloso at his most intimate.
For a guy who overcame what were no doubt considerable odds to emerge as a successful musician and actor, it's to Jorge's credit that he doesn't try to sound any tougher than need be. Additionally, he does have a feel for the contemporary, as with the two remix versions that close the album. Expect to
hear more from and about this guy. He's fresh and genuine, playing to his strengths on an impressive piece of work.
Buy Cru
Author:
Tom Orr
Tom Orr is a California-based writer whose talent and mental stability are of an equally questionable nature. His hobbies include ignoring trends, striking dramatic poses in front of his ever-tolerant wife and watching helplessly as his kids surpass him in all desirable traits.