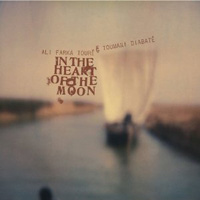 Ali Farka Touré and Toumani Diabaté
In The Heart of the Moon (Nonesuch/World Circuit Records, 2005)
Every once in a while you stumble across a CD so startlingly lovely that it takes your breath away from the first notes, where you are so suddenly struck by the easy, free-flow of talent, that you are sure it must have sprung up from some enchanted place. In the Heart of the Moon is such a CD.
Combining the incomparable talents of Ali Farka Toure on guitar and Toumani Diabate on kora, >In the Heart of the Moon brightens the very nature of the air with two of Mali's revered musicians.
It speaks to the talent of these two men that the liner notes tell how the pair would suggest a traditional tune with just a few notes and then the pair was off with little or no rehearsal. The joyful play between musicians is possessed by the gentle heart of Mali, as well as, the centuries-old musical traditions of its people. Ali Farka Touré puts it aptly in the liner notes, "Music is part of the fabric of my body and makes my spirit grow." Bet you never heard the latest pop rage say something like that and believe it.
"Debe" opens the CD. The only thing I can say about this piece is that this is what dawn must sound like in Mali. It's beautiful with an almost classical flair and punctuated by Touré's deep vocals. It's almost impossible to point out favorites, so some of the other gems on this CD are "Kala," "Kaira," "Ai Ga Bani" and "Hawa Dolo." If Touré and Diabaté weren't enough enticement, it gets better with some gentle collaborations by Ry Cooder on kawai piano and Ripley guitar; Sekou Kanté on bass guitar; Orlando "Cachaíto" López on bass; Joachim Cooder on percussion; Olalekan Babalola on percussion and James Thompson on shakers.

Toumani Diabaté says of his collaboration with Touré in the liner notes, "It will stay with me forever. That was the essence of this music – this complementary nature."
In The Heart of the Moon deserves every bit of critical acclaim it has received so far and so much more. It's classic and extraordinary – "this complementary nature."
Author:
TJ Nelson
TJ Nelson is a regular CD reviewer and editor at World Music Central. She is also a fiction writer. Check out her latest book, Chasing Athena's Shadow.
Set in Pineboro, North Carolina, Chasing Athena's Shadow follows the adventures of Grace, an adult literacy teacher, as she seeks to solve a long forgotten family mystery. Her charmingly dysfunctional family is of little help in her quest. Along with her best friends, an attractive Mexican teacher and an amiable gay chef, Grace must find the one fading memory that holds the key to why Grace's great-grandmother, Athena, shot her husband on the courthouse steps in 1931.
Traversing the line between the Old South and New South, Grace will have to dig into the past to uncover Athena's true crime.