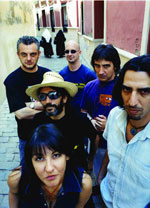 New York (New York), USA – The 2005 United States tour by Spanish Flamenco hybrid innovators Mártires del Compás has been cancelled. The group was scheduled to perform last weekend at the Madison World Music Festival. The stage announcement said it was visa
problems "due to Homeland Security" for the lead singer.
Publicist Cindy Bayram reported that, according to the band's manager in Spain, the visas for two of the entourage, lead singer/lyricist Chico Ocaña and another person doing backline for the group, were flagged by the Department of Homeland Security as needing further scrutiny before approval.
Their applications did not have any extra time built in for this, since they had never run into problems before. As of September 19th, there was still no clearance from Washington DC so the group decided to withdraw their applications and cancel the rest of the tour.
Author:
World Music Central News Department
World music news from the editors at World Music Central