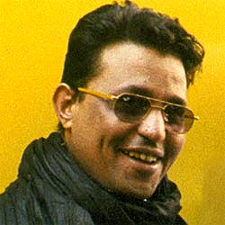 Saharawi guitarist and composer Baba Salama Said died in Pamplona, August 24 of 2005, at dawn. Baba was suffering from leukemia in a very advanced phase. On August 24, at half past six in the morning, his heart failed. On Sunday, August 28, his body returned to the Saharawi refugee camps in Algeria, in the airplane in which Saharawi children returned from spending the summer with Spanish families.
He is survived by his son, who lives in Seville (Spain), young Hamad Babas Salama, barely four years old. Known for his work as Mariem Hassan's guitarist, Baba Salama participated in the most important Saharawi recordings made in the pat years: Mariem Hassan with Leyoad, Medej, and Mariem Hassan's latest, Deseos.
Hugo Westerdahl, guitarist and director of Madrid's Axis studios, in which
Salama Baba recorded most of his work, recalls his relationship wit the Saharawi
musician:
"Working with Baba Salama was real pleasure. Although I should talk about his
ability as a guitarist, I have to say, in the first place, that he was one of
the most gentle, open and generous persons I have ever known. We got along well
from the beginning and we always had mutual understanding during the recordings.
So much so, that in several occasions we exchanged our instruments, sometimes
only for a passage or a small idea. Such was his generosity and lack of
egocentrism.
As a guitarist he had the qualities of a true bluesman: phrasing, rhythm,
intuition, style, and mainly that way of making the most difficult things seem
easy. Also, he had a modern vision of the music of his people, and his with his
style, rhythmic parts were sheer funk, but he had that hypnotic quality. In his
solos he combined with total freedom the various types of Saharawi music with
the most genuine Afro-American blues, and you could listen to John Lee Hooker or
B.B. King speaking through his hands. And, surprisingly, with the acoustic
guitar he was delicate, with a round sound and a very low volume, as if was
caressing the strings."
Read
Baba Salama Said's biography.
Author:
World Music Central News Department
World music news from the editors at World Music Central