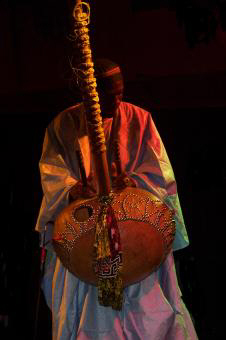 Carrboro (North Carolina), USA – Barefoot Manner, Mamadou Diabate, Alex Weiss & Different Drum, Shamrockers and Mosadi Music will perform at The ArtsCenter's DeltaAid, Tuesday, September 27, 7 p.m.
These musicians are donating their time and talent for free, so that 100% of gross ticket sales will go to ACORN's Hurricane Recovery and Rebuilding Fund. Acorn, the Association of Community Organizations for Reform Now. ACORN, a New Orleans-based non-profit is the nation's largest community organization of low and moderate income families, working together for social justice and stronger communities. Since 1970, ACORN has grown to more than 175,000 member families, organized in 850 neighborhood chapters in 75 cities across the U.S., including Raleigh.
Audience members will have the opportunity to contribute additional donations (cash or check) during the show. With 50 DeltaAid dollars, ACORN can help one family receive direct assistance applying for FEMA aid. $100 can cover the cost of helping three hurricane victims with loan counseling so they can work with their mortgage and insurance companies to recoup losses and not get into crippling debt. $500 sponsors a neighborhood effort to ensure that low-income communities are receiving the same levels of assistance that middle-income and affluent neighborhoods receive.
The ArtsCenter, with the help of the bands and audience members, expects to at least meet this $500 mark. "This benefit will do more than provide charity for those in need. It will ensure that the victims of Katrina and its aftermath are neither forgotten nor ignored," says Katina Wimbush, Secretary of Raleigh ACORN. Tickets, on sale now at The ArtsCenter's box office and online at www.artscenterlive.org, are $7, $6 ArtsCenter Friends.
Visit www.artscenterlive.org or www.acorn.org for more
information.
Links to relief organizations:
Louisiana-based:
ACORN's Hurricane Recovery and Rebuilding Fund (Association of Community Organizations for Reform Now).
Baton Rouge Area Foundation:
This group is working with the New Greater Orleans Area Foundation whose headquarters were severely damaged.
tipsevents.com, Tipitina's Foundation
New Orleans Musicians Clinic (NOMC). Send donations to NOMC Emergency Fund.
Funds will be distributed by:
http://www.swlahec.com
Louisiana Society for the Prevention of Cruelty to Animals
National non-profits:
Hurricane Housing
National Voluntary Organizations Active in Disaster
Faith-based:
Episcopal Relief & Development.
gbgm-umc.org/umcor, United Methodist Committee
Presbyterian Disaster Assistance.
national.unitedway.org, United Way Hurricane Katrina Response Fund.
Author:
World Music Central News Department
World music news from the editors at World Music Central