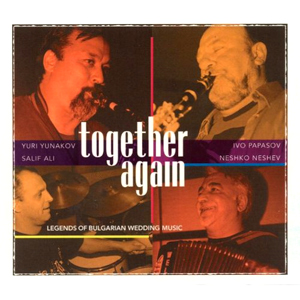 New York (New York), USA – Some of Bulgaria's most famous musicians will be touring 24 cities in the USA in September 2005. Ivo Papasov, Yuri Yunakov, Neshko Neshev, and Salif Ali are four Bulgarian Gypsy musicians who, during Soviet times, started listening to underground tapes of Charlie Parker, Jazz, and Rock. They experimented with Bebop and the electric rock sound of the West, combining these influences with traditional Bulgarian music, inventing a new folk style that took Bulgaria by storm.
Showcasing virtuosic technique, inventive improvisation, rapid tempos, daring key changes, and eclectic musical literacy including Turkish and Indian music, their music was outlawed by the Soviets. But the music fans of Bulgaria quickly fell in love with their new sound and the group often played to crowds to 10,000 or more while the Soviets looked on with despair. Bulgarian students in the 70's looked to these musicians somewhat like American students followed cult Rock bands. Their music retained a Bulgarian folk tradition but it came to embody freedom of expression valued in the west. Eventually, the government had to sanction their concerts and even endorsed their music, sending them around the world as musical diplomats.
The tour and new CD Together Again features a historic reunion of these superstars of what came to be called "Bulgarian wedding music." Record producer Harold Hagopian says: "The band had not played together much since Yuri immigrated to the USA, here on political asylum having been persecuted as a Rom [Gypsy]. But I had always been captivated by their virtuosity, complex rhythms and sheer energy. I doubt many western Jazz musicians could keep up with them in pieces like their complex 7/8 dance melodies. [track 6]."
Ivo Papasov when asked to define his music said: "I play in 'Papasov' style, I play in 'Balkan' style, I play 'ethnojazz.' We play our jazz– why shouldn't Bulgaria have ethnojazz? I get angry when they say they can't classify me. This is music! Once a famous Bulgarian jazz musician said 'I can't tell you whether Ivo plays jazz but he plays incredible music!'"
Yuri Yunakov adds: "We added Jazz, Rock, Funk and folk elements to our music. We were afraid of the authorities because Romani [Gypsy] and Turkish music were forbidden. We were in prison for 15 days twice all because of music. But little by little, all the orchestras started imitating us and every musician's dream was to play with us. Ivo and I played together for ten years and toured the world– for five years we toured constantly. I spent more time with Ivo than with my wife. In 30 days, we could have 60 weddings! One day we would be at one end of Bulgaria, the next day we would be at the other end, and sometime two weddings in one day, or even three. "
Dr. Carol Silverman, Anthropologist specializing in Roma [Gypsy] culture, describes Bulgarian "wedding music": "In Soviet times, people never heard Romani [Gypsy] music on the radio, television, on a recording, at a folk festival, in school, or played by an ensemble, due to restrictions imposed by the socialist government of Bulgaria. In the 1970s, officials and scholars alike claimed Turkish and Romani musics were "foreign" to Bulgaria. The new genre called "wedding music," created by Ivo, Yuri, and Neshko, was seen as the culprit for the decline in state-sponsored folk music. Loud, electrified, and displaying a modern aesthetic akin to rock music, wedding music typically utilizes clarinet, saxophone, accordion, guitar, bass, and drum set. These practices were threatening to the socialist establishment because they represented a stylistic abandonment of the official folk music formula.
Furthermore, wedding music was often coded as "ethnic" because Roma helped create the style.
Wedding music was also a threat to the socialist government because it was a mass movement of young fans of all ethnicities who made music, not socialist jobs and loyalty to the state, the center of their lives: they followed famous musicians around and spent their money on expensive underground recordings and on lavish three-day weddings. Wedding music also posed a political threat because it inherently defied the socialist order; it was music performed at family celebrations, not music found in official contexts. It was unofficial, countercultural, and even subversive."
Tour dates:
October 7-9 – Richmond,VA
67th National Folk Festival –
Free Admission
(804) 788-6466
October 11-12 – Las Vegas, NV
Magura Restaurant
1305 Vegas Valley, suite B-C
Oct. 11 & 12 – 8:30
Call for reservations (702) 693-6990
October 13 – Los Angeles
8pm at UCLA's Royce Hall
info and tickets: (310) 825-2101
October 14 – Berkeley, CA
UC Berkeley
Wheeler Auditorium at 8pm
Berkeley, CA 94720
Order tickets online, telephone: (510) 642-9988
October 15 – Sebastopol, CA
Sebastopol Community Center
Sponsored by Voice of Roma
390 Morris St. Sebastopol, CA
7:30 PM, (707) 823-7941
tickets sold only at the door
October 18 – Eugene, OR
University of Oregon,
sponsored by Cultural Forum
Concert and dance workshop 7 :30 PM
lecture/demo 3:30 PM tel. (541) 346-4373
October 19 – Seattle
Town Hall 7:30
Advance, reserved section tickets are $21/$18 Town Hall members, seniors & students only at www.ticketweb.com.
$23/$20 at the door. at the corner of 8th and Seneca, one block east of the I-5
Freeway. Make sure to bring your dancing shoes!!!
October 20 – Port Townsend, WA
Wheeler Theater, tickets – (360) 385-3102
October 22 – Boston, MA
Boston World Music, 8pm
Somerville Theatre, 55 Davis Square, Somerville
Oct. 23 – Portland, ME
Center for Cultural Exchange
One Longfellow Square
Portland, ME 04101
Box Office: (207) 761-1545,
Dance workshop at 6:00, concert: 7:30 pm
Oct 24-27 Ithaca, NY
WICB Ithaca College Sonic Planet radio show and WVBR Crossing Borders Radio show
host a 3-day residency, Concerts, workshops, Dances, Live radio broadcasts. Call
or check website for times. ithacaworldartsalliance.com, (607) 277-0573
October 28 – Philadelphia
Painted Bride Art Center, 7pm & 9pm
230 Vine Street
Philadelphia, PA 19106
For tickets and info: (215) 925.9914
October 29 – New York, NY
8:00 Symphony Space/ World Music Institute
95th and Broadway
(212) 545-7536
November 3 – Williamsburg, VA
Kimball Theatre
424 Duke of Gloucester St.
Williamsburg, VA 23185
Tel. 1-800-HISTORY
Tickets – General admission $15, Seniors/Students $12
November 5 – Wesleyan Univ.
Crowell Concert Hall
Center for the Arts
Wesleyan University
Wyllys Avenue
Middletown, CT
Box Office: 860-685-3355
November 8 – Minneapolis, MN
7:30 Cedar Cultural Center
416 Cedar Ave. South
(612) 338-2674, ext 2
November 9 – Madison, WI
8:00 pm University of Wisconsin-Madison
Wisconsin Union Theatre
800 Langdon Street
Madison, WI 53706
Admission is free. For more information, please call:
(608) 262-3379. info@creeca.wisc.edu
November 11 – Chicago
Old Town School of Folk Music
4544 N. Lincoln Ave. Chicago, IL 60625
7pm & 10pm For tickets call (773) 728-6000
www.ticketweb.com
November 14 – Santa Barbara
UCSB Campbell Hall, 8 pm
(805) 893-3535
$35/UCSB students $17
November 16 – Pittsburgh, PA
Bulgarian Macedonian National
Educational and Cultural Center
449-451 W. 8th. Ave.
8:00 (412) 461-6188
November 17 – Dearborn, MI
The Arab American National Museum
World Music Concert Series 7:00
13624 Michican Ave.
Dearborn, MI
(313) 624-0200
November 18 – Oberlin, OH
8 pm – Oberlin College Finney Chapel
(Corner of S. Professor and W. Lorain Streets)
To purchase tickets – (440) 775-8169
Author:
World Music Central News Department
World music news from the editors at World Music Central