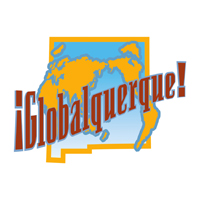 Albuquerque (New Mexico), USA -¡Globalquerque! has announced two additions to its 2005 line-up: Niyaz (Iran/USA) and Flamenco Dance Company Yjastros (New Mexico).
Yjastros is one of the leading proponents of Flamenco in the United States. Currently the company
has fifteen choreographies set for performance and is continuously attaining new work. These repertories are a living archive representing some of the best flamenco artists who have ever lived. Many outside of New Mexico may not realized that Flamenco arts is a thriving sub-culture throughout the state and a living connection to the Land Of Enchantment's Spanish heritage.
¡Globalquerque!, New Mexico's First World Music and Culture Celebration, will virtually bring the musical artistry of the globe to the National Hispanic Cultural Center (NHCC) at 6:30 on Tuesday, September 6, showcasing 12 bands from 5 continents on 3 stages
over the course of one evening.
The three-stage festival will take over the entire campus of the NHCC featuring twelve world music artists, including representative artists from New Mexico's varied musical traditions. A staggered schedule will allow people to sample the broadest range of performances in environments ranging from a small intimate theater to an outdoor stage on the plaza.
¡Globalquerque! will be both a public event and an affiliated showcase for the Western Arts Alliance (WAA) conference being held in Albuquerque September 6 – 11. WAA attendees consist of performing arts presenters from all over the Western US. This will be a great opportunity for visiting presenters to experience a world-class event in Albuquerque. The broad range of performance spaces is designed to provide showcase opportunities
for bands of all sizes. The festival will be one of the premier showcase events of the 2005 WAA conference, as well as a major cultural event for Albuquerque.
In 2006, ¡Globalquerque! will become a standalone weekend event. The programming will be expanded to include educational workshops, children's activities and a foreign film track. The Albuquerque Convention and Visitors Bureau intend to make the 2006 festival a featured destination event, marketing vacation packages (with airfare and hotels) around the region. The first and second festivals will both be part of Albuquerque's 18 month long Tricentennial Celebration
¡Globalquerque! New Mexico's First Annual Celebration Of World Music and Culture will allow concertgoers to freely move from stage to stage – experiencing the intimate lounge/café setting of the Salon Ortega, the formal concert setting of the Journal Theater, and the Plaza Mayor's outdoor festival stage. There will be New Mexican food available from La Fonda del Bosque, the Center's restaurant (including beer and wine) and the Center's Sculpture Garden and Art Museum, will
be open into the evening. (Festival admission includes entrée into the museum and garden)
Confirmed Performers
• Rahim AlHaj (Iraq)
• The Bills (Canada)
• Black Eagle (Jemez Pueblo, New Mexico)
• Majek Fashek & Prisoners Of Conscience (Nigeria/US)
• Fula Flute Ensemble (West Africa/North America)
• Marta Gómez (Colombia/Argentina)
• Markus James and Wassonrai (USA/Mali)
• Lura (Cape Verde / Portugal)
• Niyaz (Iran/USA)
• noJazz (France)
• Los Reyes de Albuquerque (Albuquerque, New Mexico)
• Samarabalouf (French/Gypsy)
• Yjastros (FlamencoDance/New Mexico)
Tickets are available now at the National Hispanic Cultural Center box office and all Ticketmaster outlets. Tickets will cost $25 in advance, $30 at the door.
Show begins at 6:30. Doors at 5:30
For further information visit
http://www.abqmusic.com/globalquerque.html.
Author:
World Music Central News Department
World music news from the editors at World Music Central