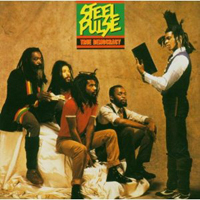 Steel Pulse – True Democracy (Elektra/Rhino R2 79287, 2005)
Steel Pulse – Earth Crisis (Elektra/Rhino R2 74687, 2005)
These two albums, originally released in 1982 and 1984, represent an early creative peak for top British reggae band Steel Pulse. Their commercial prospects seemed dicey after parting ways with the Island/Mango label, but expanding upon the basics of roots reggae to include handily inserted touches of pop, funk and rock gave them the combination of accessibility and edge that increased their fan base in the U.K. and elsewhere. Lead singer and songwriter David Hinds was honing one of the most easily compelling voices in reggae, and the rest of the group's "Musik Makers" were likewise in strong form.
True Democracy opens with the rapid-fire sermon of "Chant a Psalm" (a highlight of Steel Pulse concerts to this day) and never lets up. Classic tracks like "Ravers," "Rally Round" and "Blues Dance Raid" have lost none of their bite, and the inclusion of two extended versions and two dub mixes will give lovers of the original something extra to savor.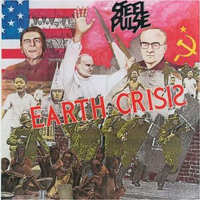 The Earth Crisis album was as timely as its cover illustration, though the conscious urgency of such songs as the title track and "Wild Goose Chase" was craftily balanced by invitations to dance ("Steppin' Out") and advice to love wisely and faithfully ("Throne of Gold"). Again the sound is reggae that sounded cutting-edge in its day and still sounds great and again there are bonus dub and 12″ versions that give you more time and space to skank righteously.
For a vintage double dose of a reggae outfit that continues to pack a punch, get out and get these discs.
Buy True Democracy and Earth Crisis
Author:
Tom Orr
Tom Orr is a California-based writer whose talent and mental stability are of an equally questionable nature. His hobbies include ignoring trends, striking dramatic poses in front of his ever-tolerant wife and watching helplessly as his kids surpass him in all desirable traits.